THE CANADIAN PRESS/Richard Lam
Team Canada's second generation Olympians at Tokyo 2020
For 11 Team Canada athletes at Tokyo 2020, competing at the Olympic Games is carrying on a family tradition. They're following in the footsteps of at least one parent who were Olympians themselves.
Summer McIntosh, Swimming (Mother Jill Horstead, Swimming)
At just 14 years old, swimming phenom Summer McIntosh will compete in Tokyo 2020 as Canada's youngest swimmer. In her young career, she has broken more than 50 Canadian age group records.
Her mother, Jill Horstead, was also no stranger to success at a young age. She competed at the Olympic Games at Los Angeles 1984 when she was just 17 and finished ninth in the women's 200m butterfly. Summer says she's wanted to make the Olympic team since watching the 2016 Olympic Trials in person. Four years later, she secured her spot in Tokyo by winning the 200m and 800m freestyle events at the Canadian Olympic Trials in late June.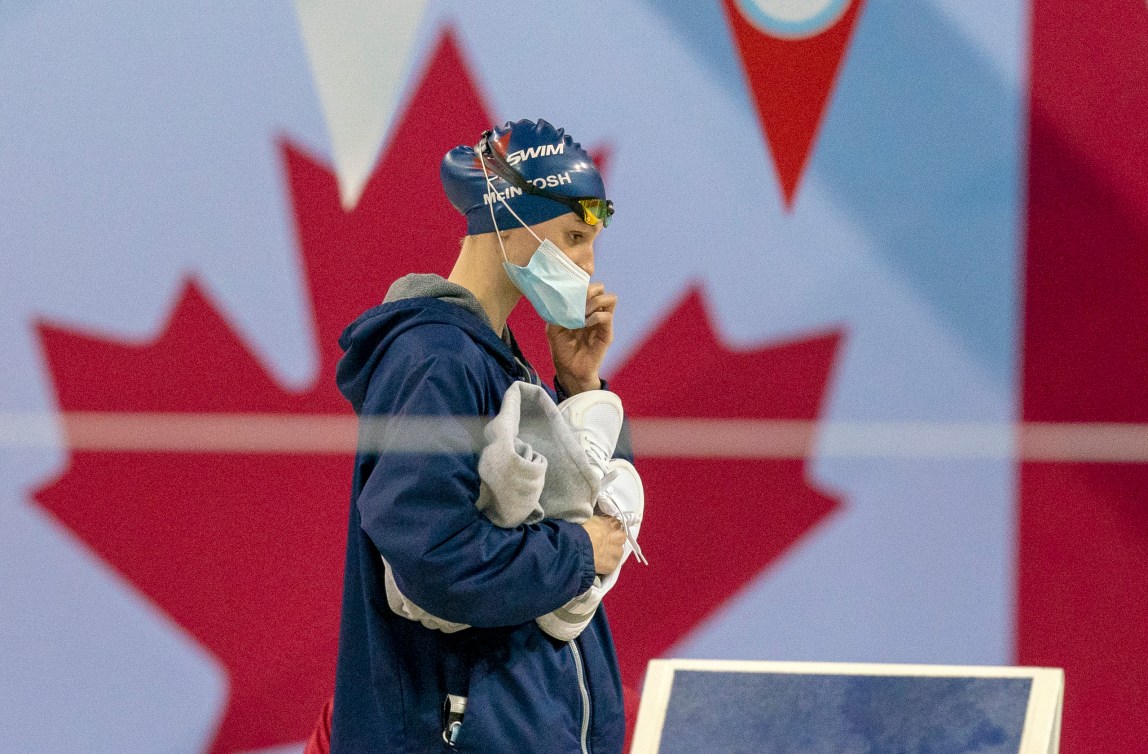 Axelle Crevier, Water Polo (Mother Marie-Claude Deslières, Water Polo)
Axelle Crevier may not remember Sydney 2000 (she was only 3 years old), but her mother's Olympic journey certainly left an impression.
Her mother, Marie-Claude Deslières, competed on the first Canadian women's Olympic water polo team and helped them to a fifth-place finish.
Axelle, who started playing water polo at age 5, was inspired to carry on the family tradition. At Tokyo 2020, she will have the unique opportunity to have her mom close by. While the Games don't allow international fans, her mother will be at the event as an official. In London 2012, she became the first woman to referee an Olympic water polo final.
Mariah Millen, Sailing (Father John, Sailing)
Mariah Millen was born and raised on Toronto Island and spent her summers in the water and falling in love with sailing.
Her father, John, is a two-time Olympian who took home a bronze from Seoul 1988. His love for the sport rubbed off quickly as Mariah has been sailing at an elite level since her fifth-place finish at the 49er FX Junior World Championships in 2017.
At the 2019 Pan American Games, she earned her Olympic spot by finishing fourth in the 49er FX alongside skipper Ali ten Hove.
Ali ten Hove, Sailing (Father Martin, Sailing)
Ali, like her sailing partner Mariah Millen, comes from a family of competitors on the water.
Her father, Martin, competed in the 470 at the 1984 Olympic Games in Los Angeles, finishing 15th overall. Ali says she was inspired by her father's Olympic path and 37 years later, is carving her own. In February 2020, Ali and Mariah earned a career-best world championship result, finishing 18th at the 49er FX class worlds in Australia.
Jordan Steen, Wrestling (Father Dave, Athletics and Mother Andrea Page, Athletics)
Jordan Steen was born from two Olympic parents – except neither of them competed on the mat.
His father Dave was a man of many talents on the track. His bronze medal in decathlon at the 1988 Olympic Games in Seoul was the first time a Canadian had ever won a medal in the combined event requiring skills of running, jumping and throwing. His mother Andrea (née Page) competed in the 400m hurdles at Los Angeles 1984.
After finishing as the 86kg runner-up at the 2016 Canadian Trials, Jordan turned the tables ahead of Tokyo 2020, winning the national trials and then finishing top-two at the Pan American qualifier to earn his first Olympic spot.
Nick Hoag, Volleyball (Father Glenn, Volleyball)
The heir to Canada's first family of volleyball, Nick Hoag carries on a long tradition of excellence above the net.
His father, Glenn, was a member of the men's volleyball team that finished fourth at Los Angeles 1984. Glenn has coached the men's national team since 2006 and had the chance to coach his son on the national stage at Rio 2016 and will again at Tokyo 2020.
Nick's mother Donna also played on the national team and brother Christopher has played alongside him as well.
The men's volleyball team is hoping to improve on the fifth-place finish that left them wanting more during Rio 2016.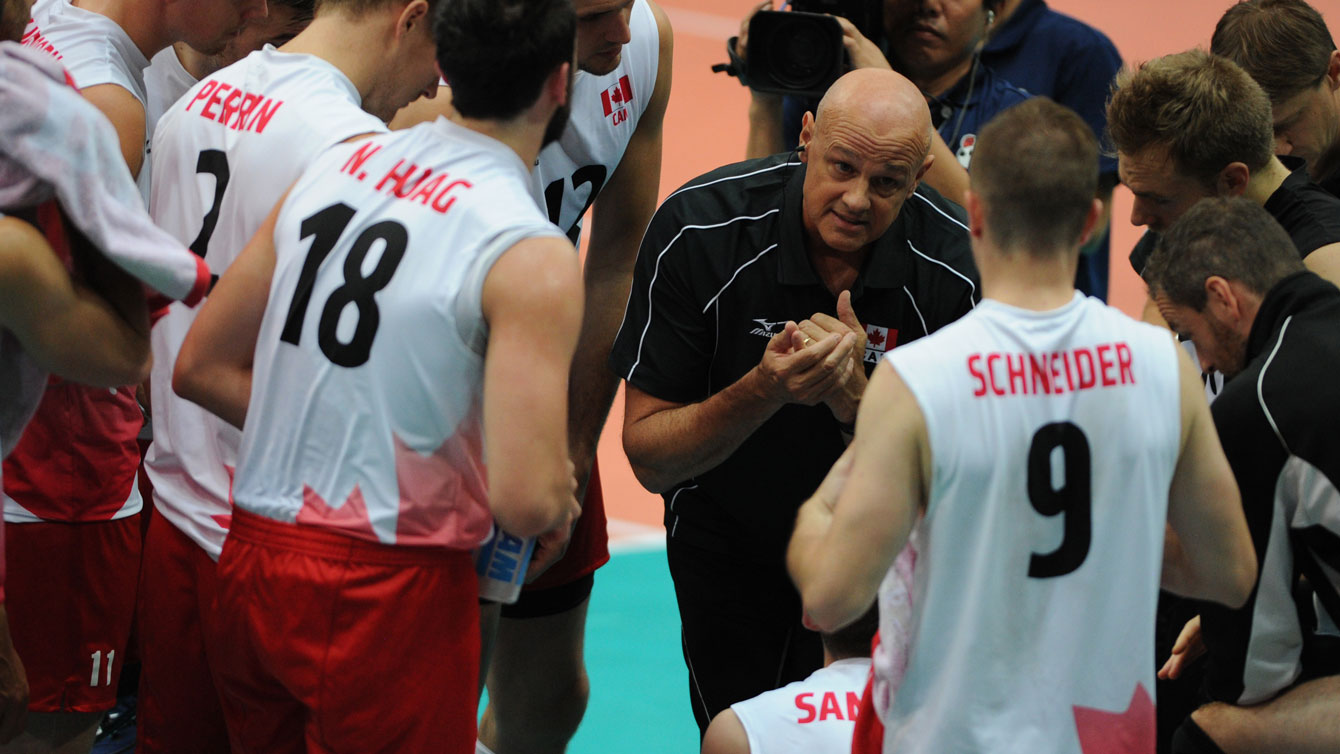 Lynda Kiejko, Shooting (Father Bill Hare, Shooting)
Canada's sole shooter in Tokyo 2020 carries a storied legacy with her.
In Tokyo, Lynda Kiejko will compete at the same venue where her late father, Bill Hare, made his first Olympic appearance in Tokyo 1964.
Lynda started pistol shooting at age 11, quickly following in the footsteps of her father who competed at Mexico City 1968 and Munich 1972. Lynda says she was asthmatic and not a physically gifted athlete as a child but shooting sports gave her an opportunity to focus her mind. She has also competed alongside her sister Dorothy Ludwig — an Olympian herself — at the 2010 and 2014 Commonwealth Games.
In 2018, she won 10m air pistol gold at the 2018 Continental American Championships, securing her Olympic spot in Tokyo 2020.
RELATED: Kiejko continuing family legacy as Team Canada's sole shooting athlete for Tokyo 2020
Kai Langerfeld, Rowing (Father York, Rowing)
Kai Langerfeld's was 13 when he first rowed with his father, and he described it as something he'd rather never do again.
However, at the age of 21 he wanted to return to a team sport and thought of rowing as a possibility.
The family genes were surely on his side – his father York competed in rowing on home waters at Montreal 1976. As it turns out, he picked up where his father left off and is now competing in his second consecutive Olympic Games after finishing sixth in the men's coxless four at Rio 2016.
Avalon Wasteneys, Rowing (Mother Heather Clarke, Rowing)
Avalon Wasteneys was a competitive cross-country skier growing up, and even competed at the junior national championships in 2014.
However, after accepting her offer to the University of Victoria, her parents mentioned rowing as a way to stay involved in sport during her post-secondary education. The suggestion should come as no surprise; her mother, Heather Clarke, competed in the coxed four event at the 1988 Olympic Games in Seoul. To top it off, her aunt Christine Clarke rowed for Canada four years prior in Los Angeles 1984, and uncle Stephen Wasteneys was on the national canoe/kayak team.
Six years since she first tried out for the Vikes' novice team, she will be rowing in her first Olympic Games in Tokyo.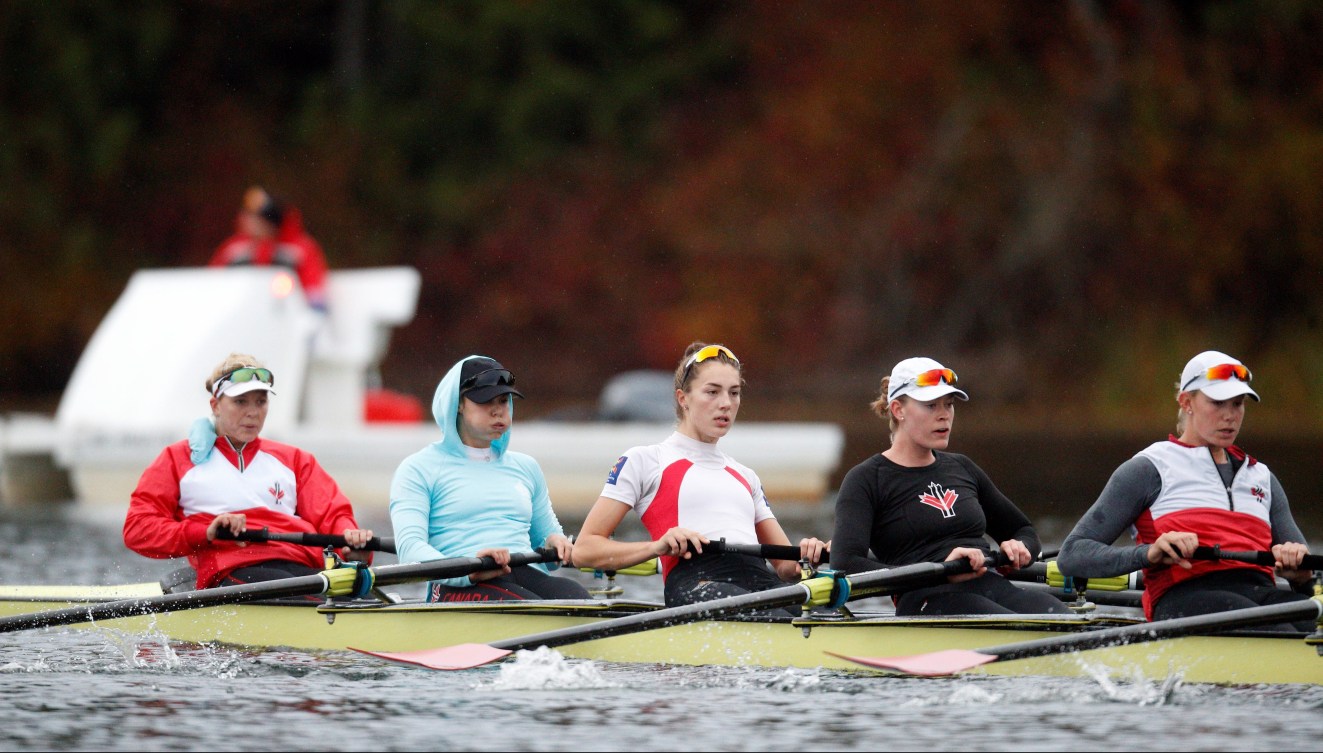 RELATED: RBC Training Ground a career catalyst for Olympic rowing hopeful Avalon Wasteneys
Jillian Weir (Father Robert, GBR Athletics)
Jillian Weir is the daughter of an Olympic athlete from across the pond.
Her father, Robert, was a three-time Olympian for Great Britain in discus and hammer throw. Jillian attended Atlanta 1996 and Sydney 2000 to watch her father compete.
Tokyo 2020 will be Jillian's first Olympic Games. She also proudly represents her Mohawk heritage, inherited from her mother's family.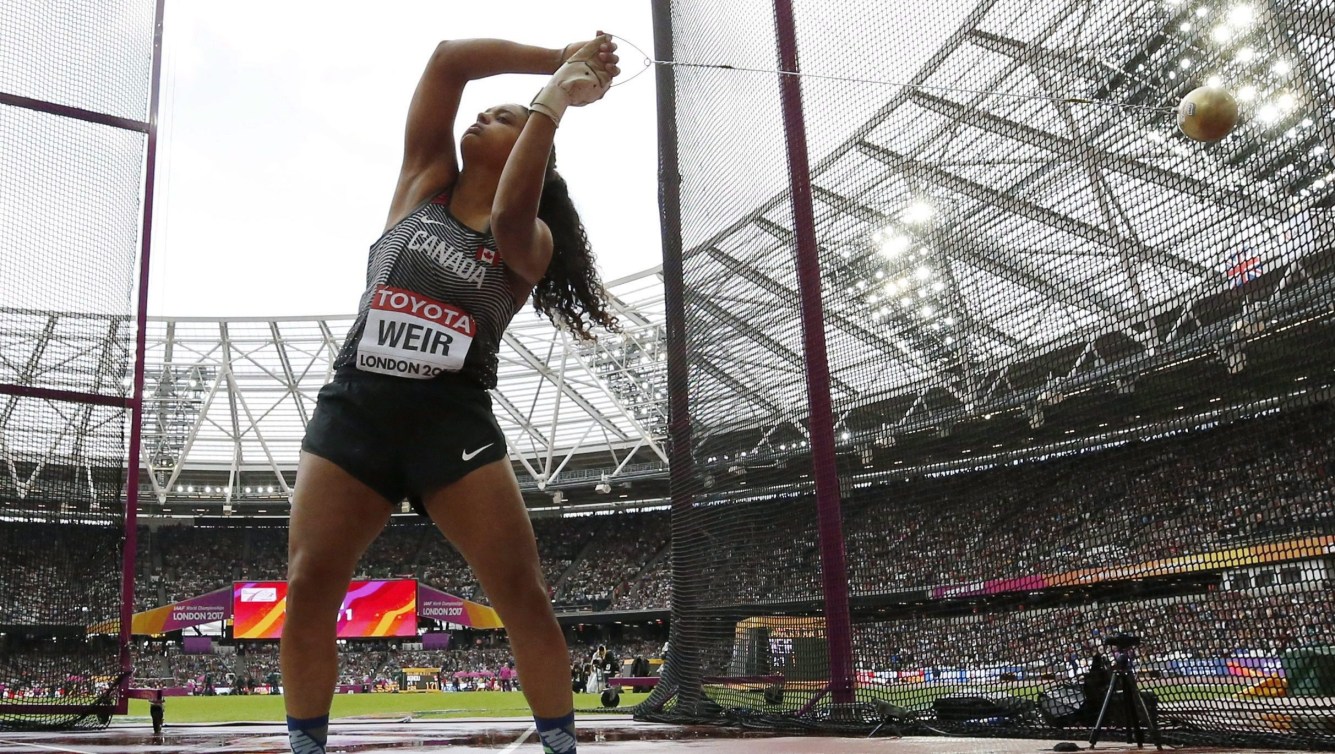 Tali Darsigny Weightlifting (Father Yvan, Weightlifting)
Although Tali Darsigny said she didn't love weightlifting at first, once she realized her potential she knew she could represent Canada at the highest level, just like her father did.
Yvan Darisgny represented Canada at Los Angeles 1984 and Barcelona 1992. Her mother, Kim Barré, also represented Canada at four world championships between 1988 and 1991. The love of weightlifting within the family runs deep, as brothers Matt and Shad also compete as weightlifters at the national level. Tali will be competing in her first Olympic Games at Tokyo 2020. In her only international competition of 2020, Darsigny took home 59kg bronze at the World Cup in Rome.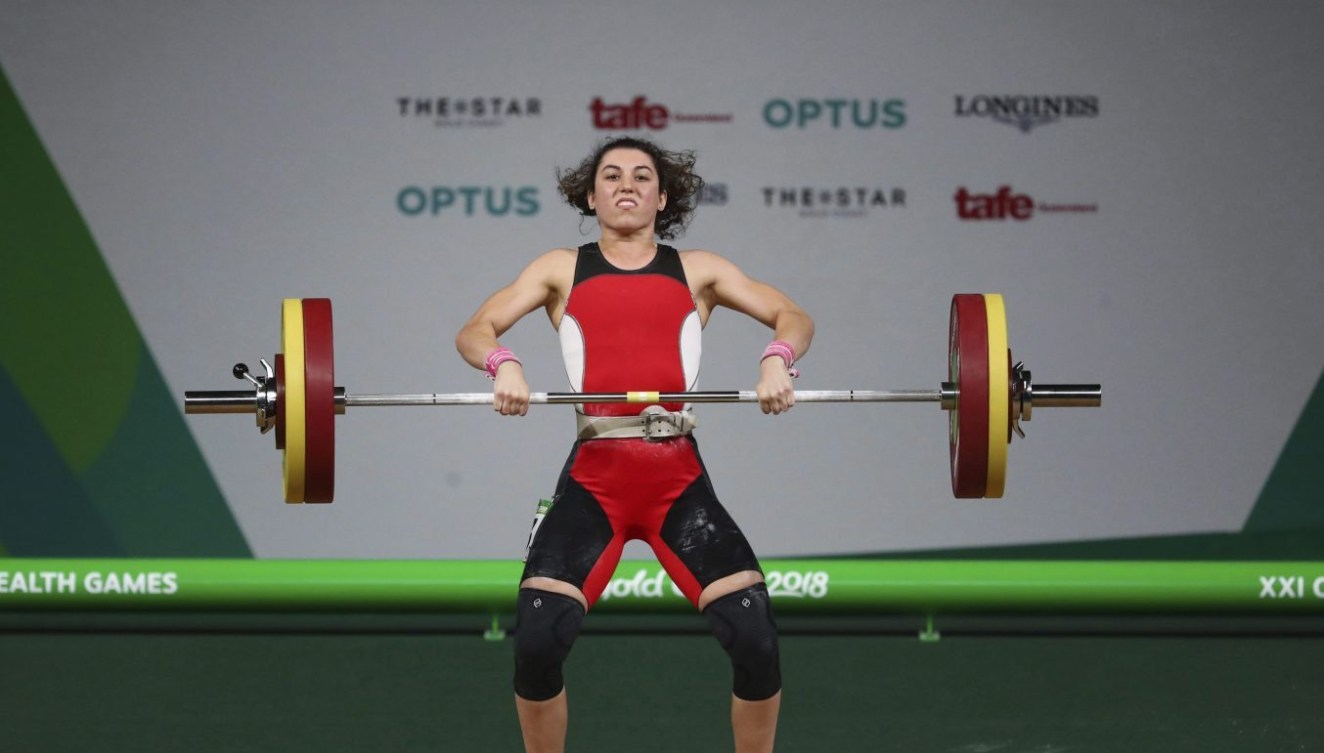 Team Canada also has one grandchild of an Olympian on the Tokyo 2020 team. Weightlifter Boady Santavy was greatly inspired by his grandfather Bob, who competed at Montreal 1976 after suffering an injury just before the start of the 1968 Olympic Games in Mexico City.