(AP Photo/Dmitri Lovetsky)
Jennifer Abel and Mélissa Citrini-Beaulieu, propelled by team strength
Did you catch the women's victory in the 3m synchro springboard early this morning? You had to be very strong not to get emotional along with the diving duo when they learned they were Olympic silver medallists. Well, that emotion is the byproduct of one thing: teamwork, because teamwork breeds success.
READ: Abel & Citrini-Beaulieu win silver in 3m synchro diving
"When I entered the water, I knew I had a good [last] dive, and the first reaction I had was to look at Mélissa," said Jennifer Abel. "She looked at me with big eyes, and she said, 'I got it.' I turned around and looked at the coaches' reaction. I knew right away that we got it and won the silver medal together."
According to Abel, the duo's performance proved that they are one of Canada's best diving teams.
The podium finish comes as both a great relief and a deliverance for Abel. Remember that after the Rio 2016 Games, where she finished fourth twice in one week, Abel struggled to cope with the result. She helped Emilie Heymans win a fourth medal in as many consecutive Games at London 2012, so all eyes were on Jennifer in 2016. The disappointment was profound.
READ: Abel dives to fourth for second time at Rio 2016
There was a lot of pressure on her shoulders to win a medal at Tokyo 2020, and thanks to the support of her partner, she can breathe again.
"The deliverance is the work that has been done over the last five years, both individually and in synchro," explained Abel. "We both want to be here, we want to give our best, and we don't want to disappoint each other. Then today, we did everything we wanted to do. We lived the moment together, and we did it together. I think what we did today is beautiful."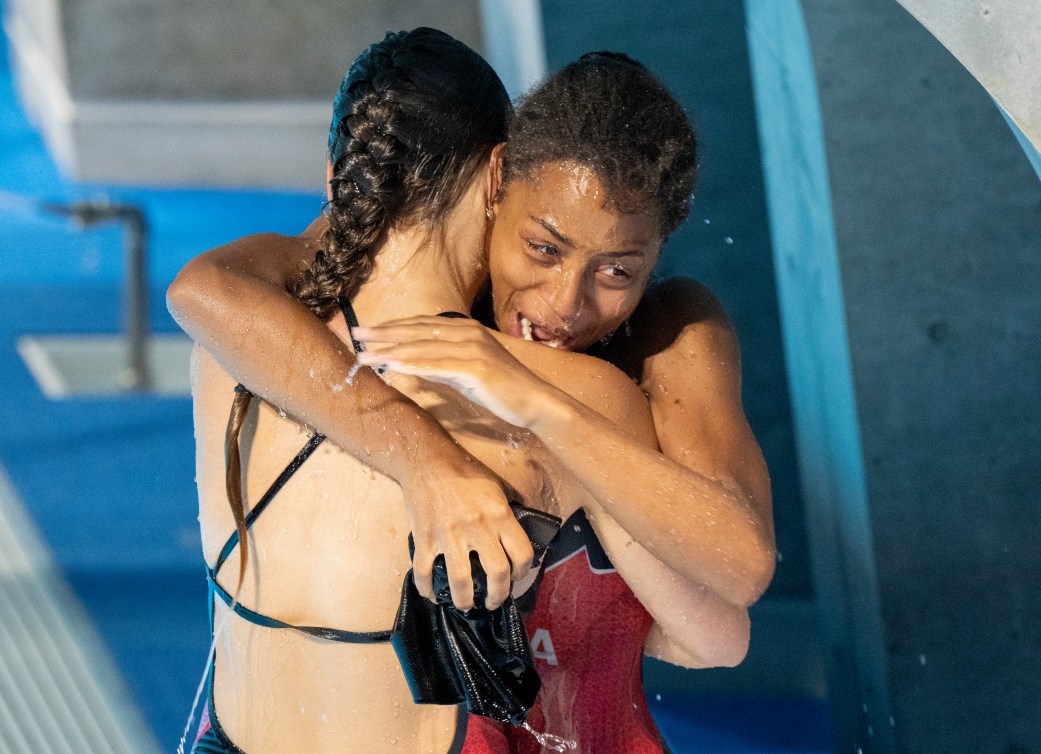 Expectations were also very high for Mélissa Citrini-Beaulieu, who in her first Olympic Games had to be the best possible partner for her veteran counterpart. "It was difficult," she admitted. "But we did it, and I'm proud of it! I felt like I knew I could do it. I just had to do what I had to do. And I had faith in Jen."
On the podium, the new Olympic runners-up placed the silver medals around each other's necks. It was a moment that, for Citrini-Beaulieu, served as a thank you between partners. The moment symbolized "all the work we've put in together, and I think it says a lot about our partnership", she said. "We wouldn't be here without each other."
As a matter of fact, that's what Abel saw in young Mélissa – who has dreamed of being a diver since she was two years old – when it came time to choose a synchro partner: "When I started my Olympic cycle [after Rio 2016], I knew I wanted to stand on the springboard in Tokyo knowing that I had done everything I could to be my best. That's why I chose Mélissa; I knew that together we would be the best team, and that she would be a friend to me. She's cheerful and really passionate about diving, so it brought back my desire to win and the happiness when I dive."
As we rewatch this magical moment when the two women jump into each other's arms, and then see the coaches join in on the fun, we can't help but share in the great joy of diving.