Canada locks up Paris 2024 qualification in women's soccer
Team Canada will get the chance to defend their Olympic gold medal in women's soccer at Paris 2024.
In front of an energetic Toronto crowd on Tuesday night, Canada defeated Jamaica 2-1. Combined with a 2-0 win on Friday, Canada wins the two-game series 4-1 on aggregate and has qualified for next summer's Olympics.
Prior to the match, two players were celebrated for reaching 100 appearances for Canada: Adriana Leon and Janine Beckie (who was on hand, but is still recovering from injury).
Head coach Bev Priestman went with the same starting lineup as she did Friday, with one change. Quinn was a last-minute scratch after having tightness during warmup; Julia Grosso started in their place.
A strong start
Canada didn't take long to assert themselves on Tuesday. Just 90 seconds in, Cloé Lacasse cut in and released a shot that had Jamaica goalkeeper Rebecca Spencer at full stretch to make the catch.
The home side comfortably controlled the tempo through the first half hour. Lacasse, Leon and Nichelle Prince made plenty of noise around the opposing goal, but the match remained scoreless.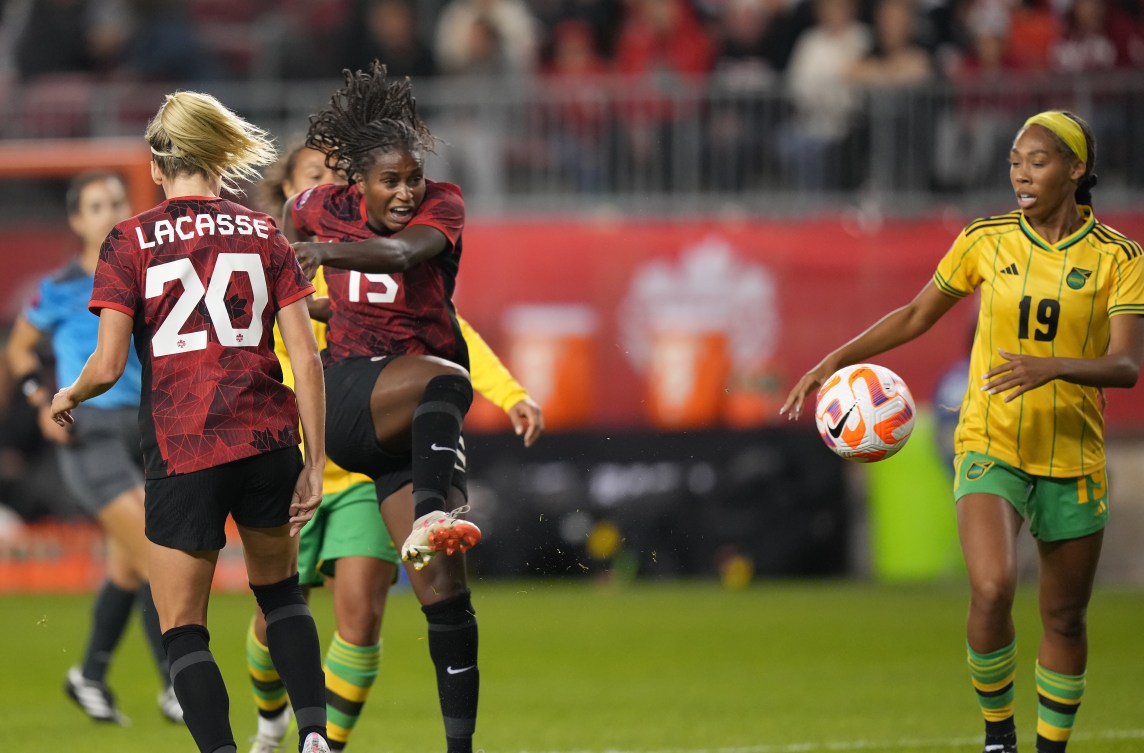 Then Jamaica earned a fortuitous free kick in the 33rd minute that shook things up. Midfielder Drew Spence stepped up and, from 25 yards out, curled a wonderful free kick into the top corner of Canada's goal for a surprising 1-0 lead.
The home team kept up the attack and, five minutes later, Ashley Lawrence nearly had her own highlight-reel goal. The Canadian cracked a 25-yard blast from open play, but Spencer did enough to push it onto the crossbar.
Moments later, though, Canada got its reward. Leon curled in a corner kick that Lacasse headed home her second career goal for the national team.
Scoring on home soil was massive for Lacasse, who at age 30 has only recently become a national-team regular.
"It was extra special," said Lacasse, a native of Sudbury, Ont. "I had my parents in the crowd. My mom, bless her heart, she always cries but today she was crying a little extra."
Second half fireworks
The momentum kept right on rolling after halftime. In the 50th minute, Lawrence — just as she did on Friday — barrelled down the right and lifted a perfect cross into the penalty area.
This time it was Jordyn Huitema, who'd just come on a second-half substitute, who headed home to put Canada up 2-1. It was her 17th career goal for Canada, and it sent the crowd into delirium.
"The atmosphere tonight was absolutely unreal," said Leon. "It's such a privilege to play at home. I know everyone really enjoyed the 29,000 people that came out."
The hometown faithful got another chance to cheer nine minutes later. The immortal Christine Sinclair came on as a substitute, making her 327th career appearance for Canada.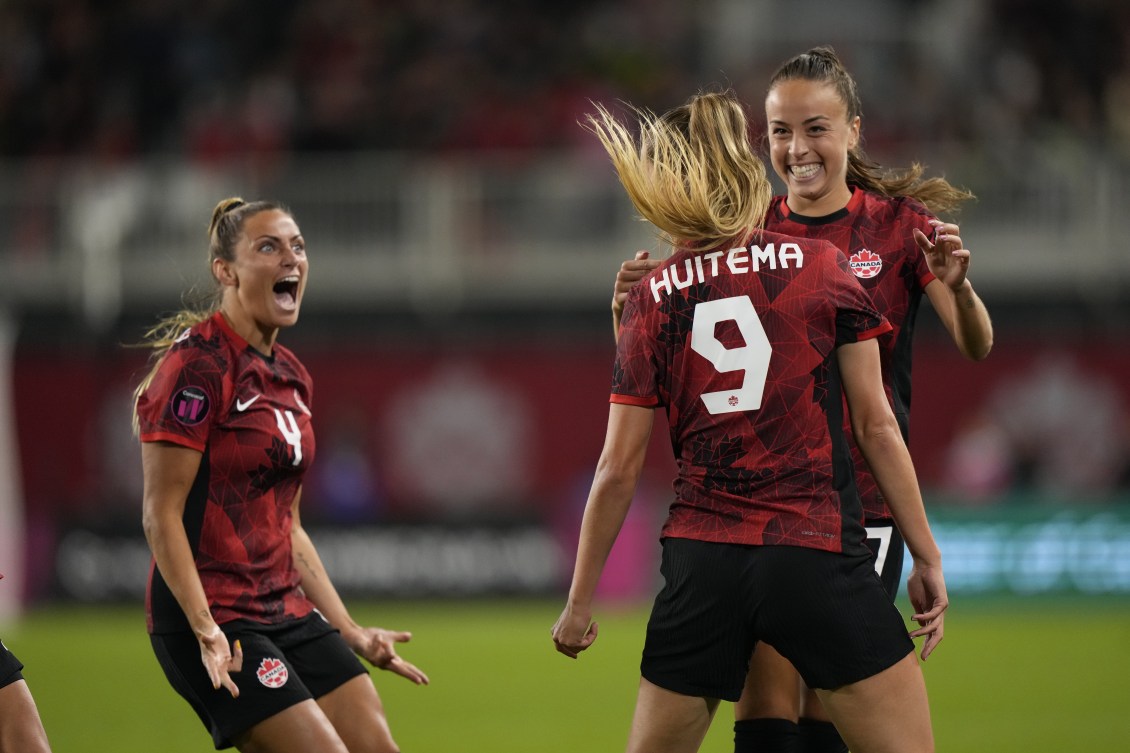 The final third of the match provided home-soil debuts for a few youngsters: Simi Awaujo, 20, and Olivia Smith, 19. Both of them caused headaches for the Jamaicans and showed they could be part of the Olympic squad.
"I think their fearlessness, blended in with some really good, experienced players is a great recipe to keep this team hungry and keep
pushing," said Priestman. "If we don't have character, we've lost the heart of this team."
The path to Paris
Canada is the fifth nation to secure its spot in the 12-team field, joining France, the United States, Brazil and Colombia. But their path to Olympic qualification was a bit longer than usual.
In past cycles, the CONCACAF region (North and Central America, and the Caribbean) has determined both of its Olympic entrants via a singular tournament.
This time, only the winner of last year's W Championship was guaranteed a spot. That was the USA, who defeated Canada 1-0 in the final. That left the second- and third-place teams from that tournament (Canada and Jamaica) to battle for the one other Olympic spot.
Canada defeated Jamaica 4-0 at the W Championship in the summer of 2022, and were considered Olympic shoe-ins. Then at this summer's FIFA Women's World Cup, Jamaica exceeded expectations while Canada floundered, leaving some question marks.
These two games answered some of those questions. But even as Canada seeks a fourth straight Olympic podium, Priestman knows they can't take anything for granted.
"This team is better when they are after something," she said. "Ultimately what we're going after is putting right the wrong of that World Cup, and I think we have that mindset.
"What I've seen with this group is that we're our best when we're chasing something, and we're out there fighting."