Canada's oldest and youngest summer Olympic medallists
Age-defying feats routinely remind us of the incredible things humans are capable of achieving.
Be it a 107-year-old Olympic torch relay runner or, a 17-year-old Marilyn Bell swimming across Lake Ontario, they never fail to inspire people all around the globe. Canadian Olympians are no exception.
From teenagers atop the podium to athletes with six decades of life experience, there is a lot to admire and celebrate.
Who are Canada's youngest and oldest Olympians?
Canada's youngest ever female Olympian was swimmer Barbara Hounsell, who was just 13 years and 102 days old at the start of Tokyo 1964. Youngest male Olympian honours go to diver Alex Despatie, who was just 15 years and 114 days old when Sydney 2000 began.
At the other end of the spectrum are equestrian Ian Millar and archer Marjory Saunders, Canada's oldest male and female Olympians, respectively. Millar was 65 years and 212 days old at the start of London 2012. But even that wouldn't make him the oldest Olympian ever, a record that goes to Swedish shooter Oscar Swahn who was 72 years old when he won silver at Antwerp 1920. Saunders was 59 years and 182 days at Munich 1972.
Who are Canada's oldest and youngest summer Olympic gold medallists?
Youngest Man
Shooting – Trap: George Genereux (17 years, 148 days on July 26, 1952)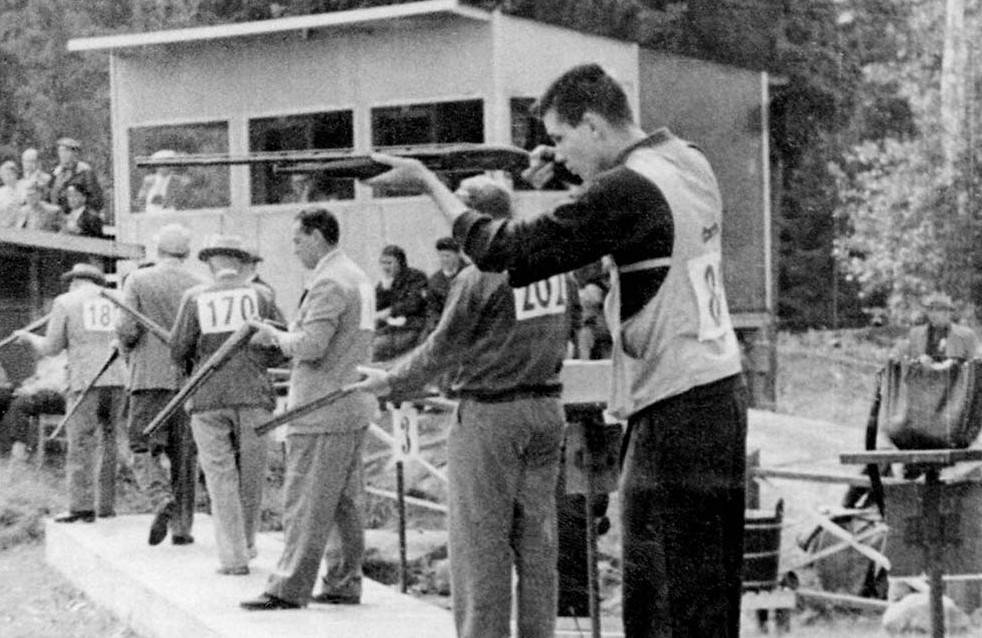 Before he was legally an adult, George Genereux was already the Junior North American Champion (1951) and a silver medalist at the Senior World Championships (1952), the same year he made his only Olympic appearance in Helsinki. On the first day of competition he earned 95 points, tying him for second place with Sweden's Knut Holmqvist and Czechoslovakia's Frantisek Capek, just one point behind leaders Hans Aasnaes of Norway and Hans Liljedahl of Sweden. On day two he scored 97 points, while Aasnaes (89), Capek (93) and Liljedahl (94) all dropped. The last remaining challenger, Holmqvist, needed a perfect round of 25 to tie the Canadian but missed on his 24th shot, giving Genereux Canada's only gold of the Games.
Youngest Woman
Swimming – 100m freestyle: Penny Oleksiak (16 years, 58 days on August 11, 2016)
After an outstanding junior career, Penny Oleksiak made a name for herself at the 2016 Canadian Olympic Trials, earning a spot on the team while breaking national records in the 100m butterfly and 100m freestyle. At the Rio 2016 Olympic Games, she was not deterred by a slow start in the 100m freestyle, storming back in the second half to finish in a tie for gold, breaking the Olympic record in the process.
Oldest Man
Golf: George Lyon (46 years, 29 days on September 24, 1904)
A former world record holder in cricket, George Lyon only took up golf at age 37. Known for his unorthodox swing, Lyon quickly moved through the ranks, becoming an eight-time Canadian Amateur champion and a 10-time Canadian Seniors champion. But perhaps Lyon's greatest claim to fame is as the last Olympic champion in golf, winning gold at St. Louis 1904. In the match play tournament, Lyon faced 19-year-old American Chandler Egan in the final. After five straight days of 36 holes, Lyon's age was expected to be his weakness. Instead, his years of athletic endeavours hardened him for the cold and wet day. He celebrated at the awards dinner that night by walking the length of the dining room on his hands.
Oldest Woman
Shooting – 25m Pistol: Linda Thom (40 years, 212 days on July 29, 1984)
Linda Thom began shooting with her father at age eight, but only started competing in the 1960s while attending Carleton University. She was a truly gifted athlete, winning six consecutive Canadian pistol championships in the 1970s. She then retired, but returned with the news that women's pistol shooting would join the Olympic program. At the 1983 Pan Am Games she won silver in the 25m pistol and bronze in the 10m air pistol. That success followed her to Los Angeles 1984 where she became the first woman to win an Olympic shooting event (the 25m pistol was the first ever women's shooting event at the Games), the first Canadian Olympic gold medallist since 1968, Canada's first individual Olympic gold medallist since 1956, and the first female Canadian summer gold medallist since 1928.
Who are Canada's youngest and oldest summer Olympic medallists?
Genereux holds the mark for youngest Canadian male medallist ever while swimmer Robin Corsiglia was just 13 years and 341 days old when she helped the women's 4x100m medley relay win bronze at Montreal 1976. Millar was 61 years and 224 days old when he and the Canadian jumping team won silver at Beijing 2008 while rowing coxswain Lesley Thompson-Willie was 52 years and 318 days when the Canadian women's eight won silver at London 2012.