AP Photo/Petr David Josek
Mac Neil getting used to a new title: Olympic champion
Heading into the women's 100m butterfly final at Tokyo 2020, Maggie Mac Neil's goal was simple: Have fun.
On Day 3 at the Tokyo Aquatics Centre, she swam the race of her life and won an Olympic gold medal. So, it's probably safe to say her approach paid off.
"I was really just trying to enjoy the experience today," she said after the race. "I'm really happy it all came together."
READ: Mac Neil wins Canada's first gold medal of Tokyo 2020 in the 100m butterfly
It's not uncommon for first-time Olympians like Mac Neil to focus on soaking up the experience. But the 21-year-old from London, Ontario had other factors at play as well.
She came into Tokyo as the reigning world champion, having burst onto the scene at the 2019 FINA World Championships. At that event, she upset Sweden's Sarah Sjöström in the final with a Canadian and Americas region record time of 55.83 seconds.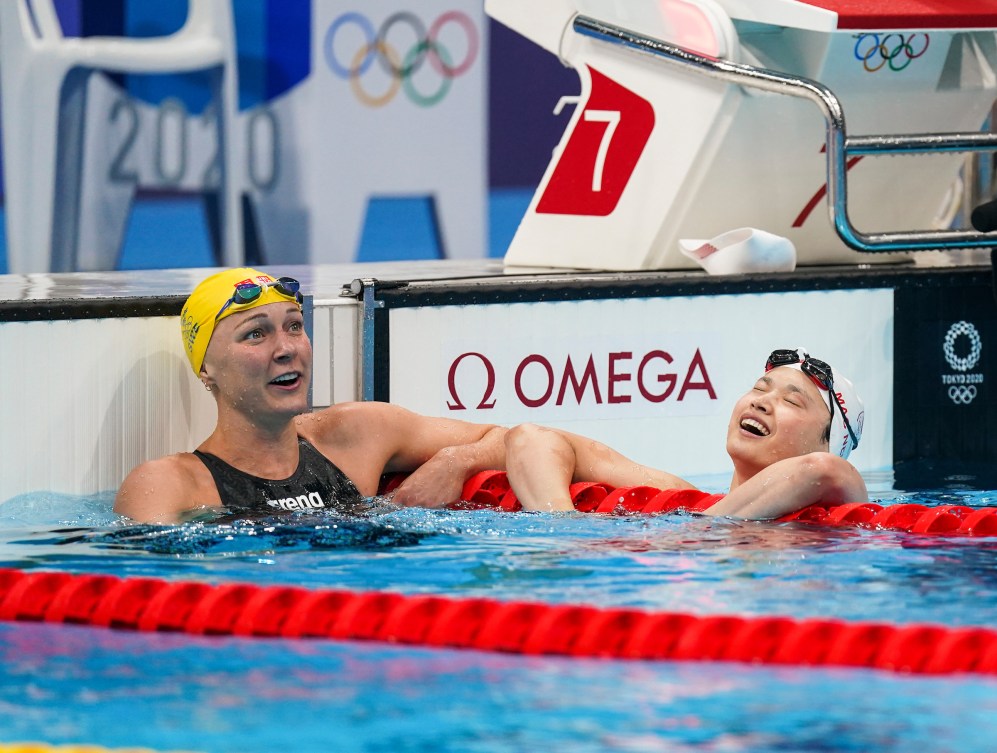 But though she could go into that competition under the radar, she had no such luxury ahead of these Summer Games.
"Coming in with a target on your back is hard in so many ways that i wasn't really expecting," said Mac Neil. "Going into worlds, I was relatively unknown, so I had that to my advantage.
"Focusing on having fun helps me to forget about what's happening [elsewhere] and just focus on the race."
READ: Oleksiak makes Canadian Olympic history, but she didn't do it alone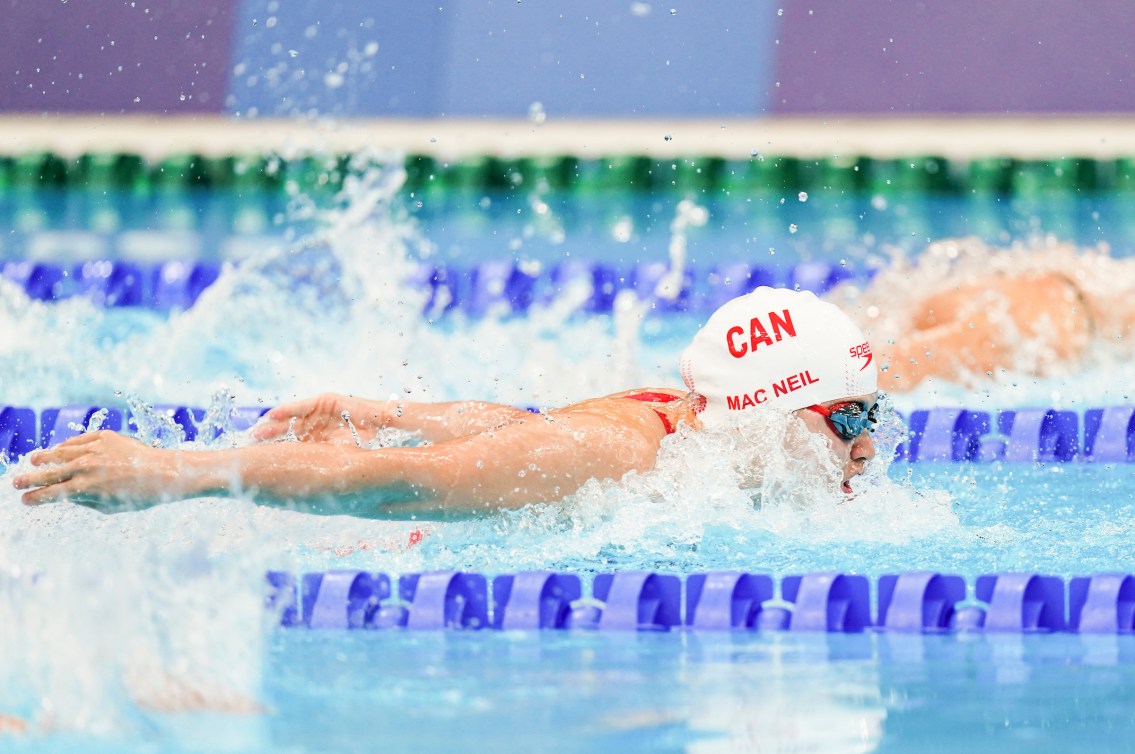 She swam out of lane 7 in the final, which turned out to be advantageous. Mac Neil could hardly see any of the other competitors throughout the race, which allowed her to stay completely focused on executing her own plan.
But it also meant she initially had no idea that she'd won. She swam next to Sjöström, the silver medallist, at the world championships, which pretty quickly gave her an idea of the result.
Mac Neil and Sjöström were once again side-by-side in the Tokyo final, but the Swede finished a distant seventh. So Mac Neil, who doesn't wear contacts or prescription goggles, had to squint to read the scoreboard.
"I heard my name getting called so I thought I must have done something good," she said. "But it wasn't until I turned around and saw the results that I realized I had won."
Not only had she won, she'd set another Canadian and Americas region record: 55.59 seconds.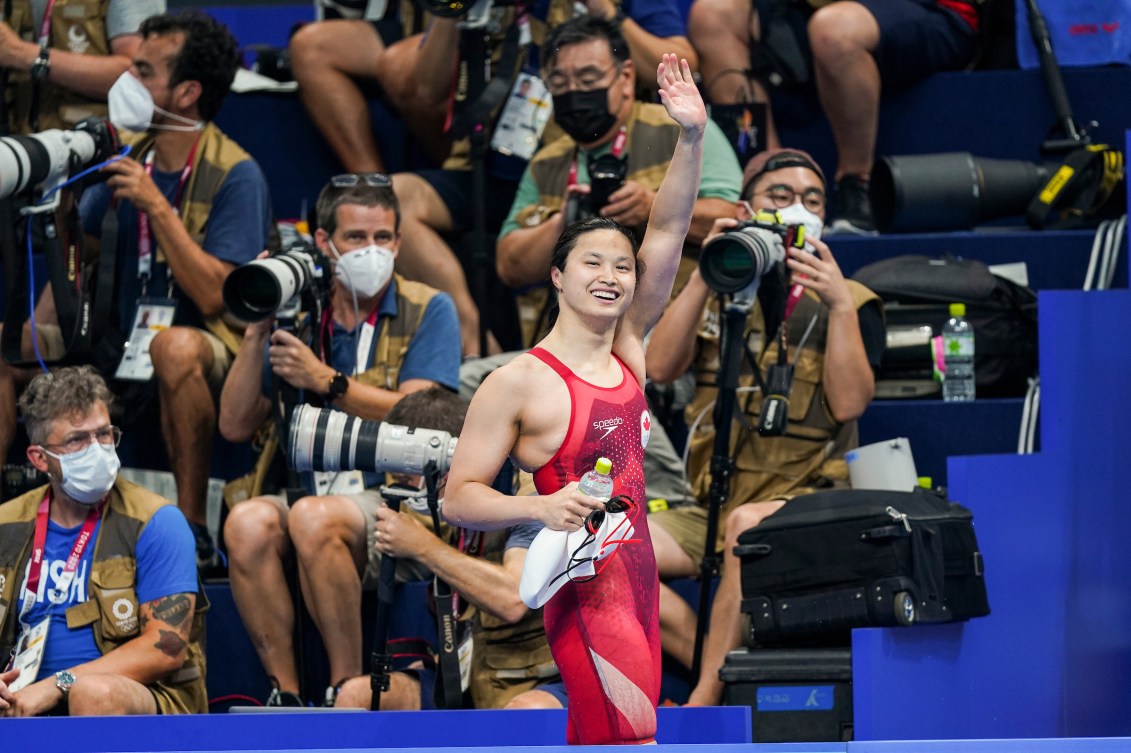 It was Mac Neil's second medal moment in as many days, having helped Canada win silver in the 4x100m freestyle relay on Day 2. In just over 24 hours, she's introduced herself to all of Canada, the way she introduced herself to the swimming world two years ago.
"I'm trying to process what happened yesterday with the relay just because that was so incredible," she said. "I still don't think I've realized the whole world champion thing, so [being Olympic champion will] take a while, I think, to get used to.
"Everyone dreams of this moment, and I just can't believe it happened."
With the potential for more medals for Canadian swimmers in the days to come, Mac Neil is looking forward to seeing what her compatriots can accomplish.
"We have such a young team and it's honestly so exciting to be a part of it," she said. "Having two [medals] is just incredible and I think we're going to keep the momentum going in the rest of the meet."