Canada Basketball-Muad Issa/AP Photo-Charlie Riedel/Bence Vekassy-ICF-CanoeKayak Canada
5 Team Canada sports to watch this weekend: August 25-27
While we're into the last few days of competition at the World Athletics Championships, a Canadian men's all-star basketball team kicks off the FIBA World Cup where they hope to qualify for next year's Olympic tournament.
Also looking to secure some Olympic quota spots for Paris 2024 are the Canadian paddlers at the ICF Canoe Sprint World Championships, while Brooke Henderson looks to return to the leaderboard at her home national open.
Here's a quick glance at what you'll want to be watching this weekend:
Athletics
So far at the World Athletics Championships in Budapest, it's been the hammer throw events that are the highlights for Canada with Ethan Katzberg and Camryn Rogers making it a clean sweep of the gold medals. But there is plenty of great action still to come.
READ: 5 fun facts about world champion hammer thrower Ethan Katzberg
On Friday, Canada's decathletes, Pierce LePage and Damian Warner, will have their first day of competition. The two-day event finishes up on Saturday. Both head in with the podium in their sights. Warner is, of course, the reigning Olympic champion, but also has three world championship medals. LePage is one of Canada's returning medallists, having earned a silver medal at last year's worlds from which Warner had to withdraw due to a hamstring injury.
Saturday will start with the women's marathon at 7:00am local time in Hungary. Canada will be represented by Natasha Wodak and Sasha Gollish. Wodak is the Canadian record holder for the women's marathon, running 2:23:12 at the Berlin Marathon in September 2022.
Later that day is the final of the men's 800m. Marco Arop cruised through the prelims (in which he had time to ease up and low-five a competitor) before clocking a time of 1:44.02 to rank fourth in the semifinals.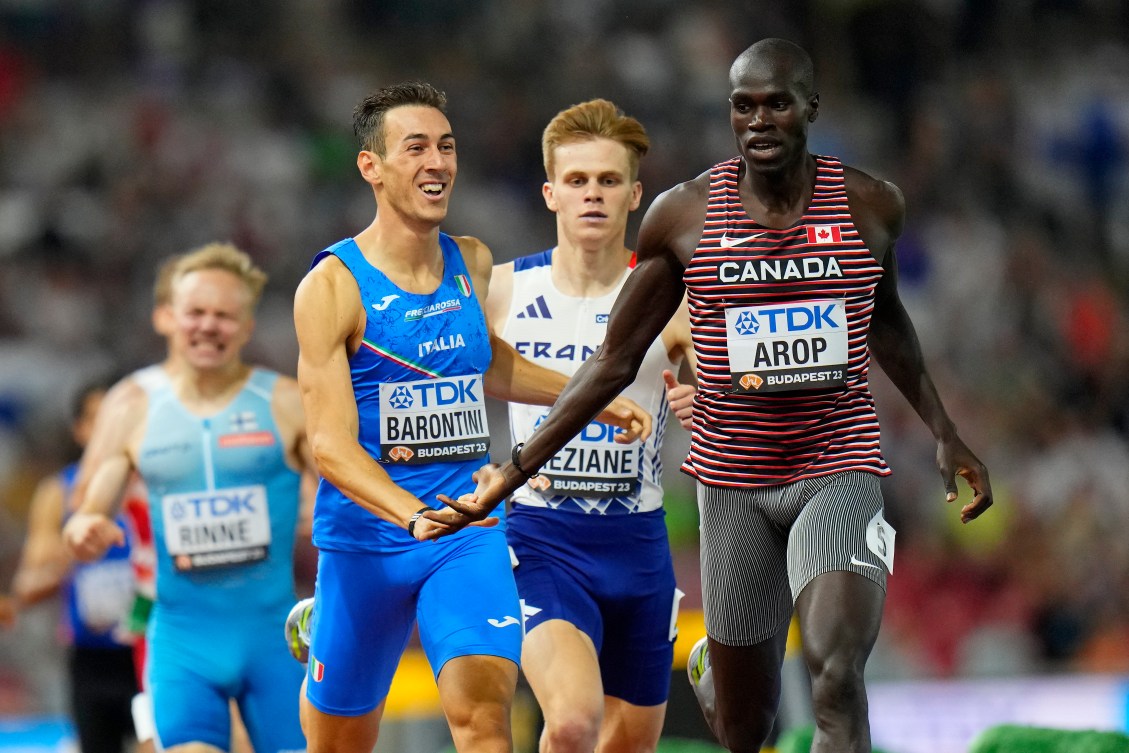 Team Canada's men's 4x100m relay team will take to the track on Friday for the heats to determine whether they advance to Saturday's final. Jerome Blake, Aaron Brown, Andre De Grasse and Brendon Rodney are the defending champions from last year's World Championships, as well as the Tokyo 2020 silver medallists in the event. De Grasse is the only one of the Canadians to advance to Friday's 200m final from Thursday's semis.
Moh Ahmed will compete in the men's 5000m on Sunday after running 13:33.16 in a tactical preliminary heat. Ahmed is the reigning Olympic silver medallist in the distance from Tokyo 2020.
The men's marathon will take place on Sunday, the final day of the championships. Canada will be represented by Rory Linkletter, Ben Preisner and Justin Kent. Linkletter boasts a best time of 2:10:24, which he ran at last year's World Championships in Eugene, Oregon. Preisner has a personal best of 2:10:17. Kent has a 2:13:07 personal best.
Basketball
This Friday sees the start of the FIBA Basketball World Cup 2023, hosted by the Philippines, Japan and Indonesia. Held every four years, the major men's basketball event also serves as a qualifier for the Paris 2024 Olympic tournament.
READ: Star-studded men's basketball team chasing breakthrough for Canada at FIBA World Cup
Currently ranked 15th in the world, Canada is in Group H, where they will face France (5th), Latvia (29th) and Lebanon (43rd).
Things get off to a flying start for Team Canada, who take on France at the start of the tournament on Friday, August 25 at 9:30 a.m. ET. This is followed by matches against Lebanon on Sunday, August 27 at 5:45 a.m. ET, and Latvia on Tuesday, August 29 at 9:30 a.m. ET. All these matches take place in Jakarta, Indonesia.
With several NBA players in its line-up, including Shai Gilgeous-Alexander, R.J. Barrett, Luguentz Dort, Dillon Brooks, Kelly Olynyk, Dwight Powell and Nickeil Alexander-Walker, Team Canada is facing some serious expectations.
To progress to the second round of the tournament, which takes place from August 31 to September 4, Canada must finish among the top two teams in its group. A second group stage then determines who moves onto the playoff round.
Canada can qualify for Paris 2024 by finishing among the top two teams in the Americas region at the FIBA World Cup.
Canoe/Kayak Sprint
The 2023 ICF Canoe Sprint World Championships are in full swing in Duisburg, Germany. In addition to medals, Olympic quota spots for Paris 2024 are also at stake.
Bronze medallist at Tokyo 2020 in the women's C-2 500m with now-retired Laurence Vincent Lapointe, Katie Vincent will be seeking to earn Canada a quota spot in the same event with her new teammate, Sloan MacKenzie. They finished sixth in the event at the 2022 World Championships, when Vincent won three gold medals and one bronze in events not on the Olympic program.
On the men's side, Craig Spence and Alix Plomteux line up in the C-2 500m. C-2 boats must finish in the top eight in Duisburg to earn Olympic spots. The women's final is scheduled for Saturday, and the men's final for Sunday.
In the other canoeing events on the Olympic program, Connor Fitzpatrick will start the men's C-1 1000m event, the final of which takes place on Saturday morning. Sophia Jensen is in the women's C-1 200m and will try to make her way through to the final on Friday. In both events, canoers must finish in the top five to give the country an Olympic quota.
In the kayak events, Michelle Russell represents Canada in the women's K-1 500m and Cameron Low in the men's K-1 1000m, two events in which the top six finishers will earn an Olympic quota for their country. The finals of these events are scheduled for Saturday.
In the women's and men's K-2 500m events, the top six countries will receive Olympic quotas. Courtney Stott and Madeline Schmidt will be the Canadian women in action, while Pierre-Luc Poulin and Simon McTavish are the men's representatives. The finals of these events will be contested on Sunday.
Stott, Natalie Davison, Riley Melanson, Toshka Besharah-Hrebacka compete in the women's K-4 500m event. Laurent Lavigne, Nicholas Matveev, McTavish and Poulin make up the men's K-4 500m crew. In both events, Olympic quotas will be awarded to the top-10 countries, but that needs to include four different continents. These finals take place on Friday.
Women's Golf
The Canadian Women's Open is taking place this weekend in Vancouver, B.C. at the Shaughnessy Golf & Country Club.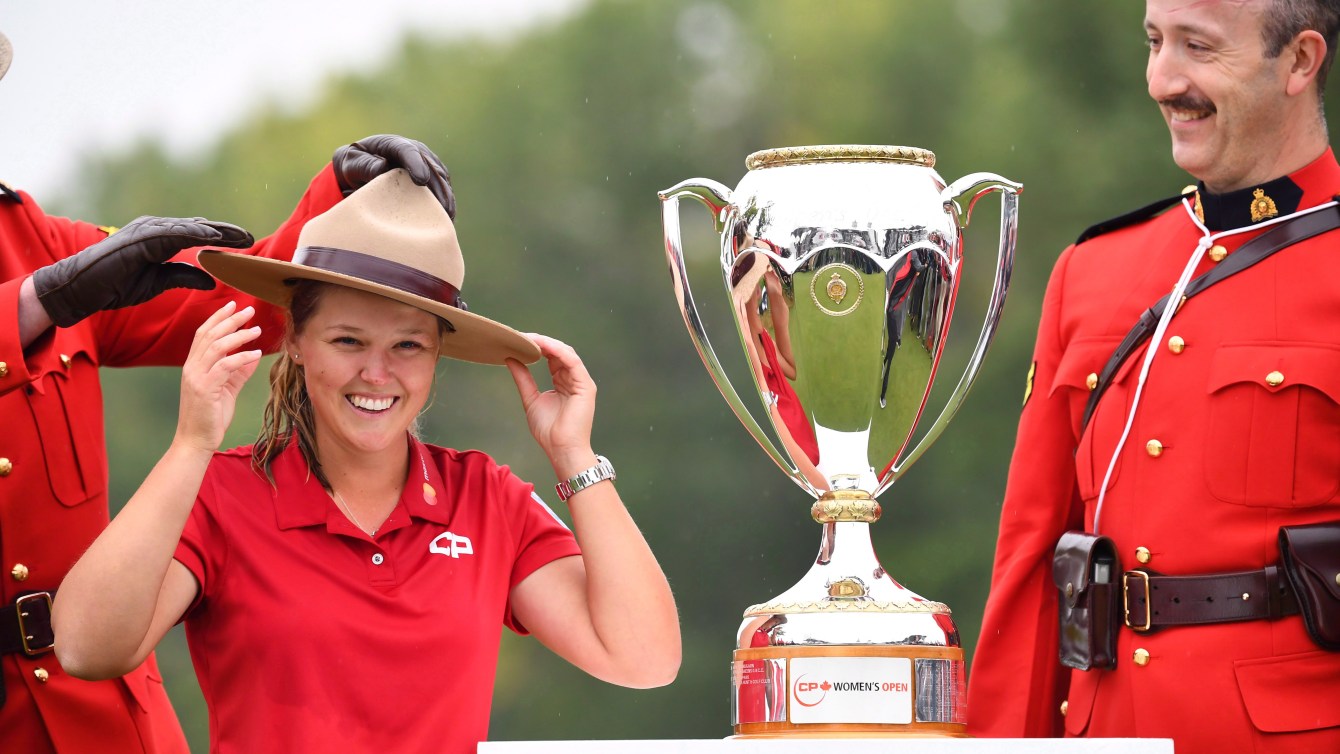 The 15 Canadians in the field are headlined by Brooke Henderson, who describes winning the event in 2018 as a career highlight. At age 25, Henderson has won 13 LGPA tournaments, but only that one on home soil.
READ: Brooke Henderson's 13 legendary LPGA Tour victories
"Every tournament I go into I'm thinking about that moment, all the good stuff that happened and everything that worked out. We strive for that and I still strive for that every day," Henderson said about the 2018 win. "But just knowing I can do it and able to do it here in Canada was amazing. And then I know it's probably the hardest thing to defend your title, but I'm enjoying everybody here, the atmosphere, and just that stuff makes me a little bit more calmer, a little bit more easy and having to play. But such great vibes, and I'm so lucky to have won and I really want to do it again."
The field contains nine of the top 10 women on the world rankings.
Men's Golf
On the men's side, Nick Taylor and Corey Connors will tee off in the PGA Tour Championship, taking place at East Lake Golf Club in Atlanta, Georgia. This tournament is reserved for the top 30 golfers on tour this year.
Taylor won the Canadian Open in June with a 72-foot eagle putt, the first time a Canadian has won the home national open since 1954.