Team Canada at Tokyo 2020: Day 6
Caileigh Filmer and Hillary Janssens win Canada's first medal of the Olympic rowing regatta, Penny Oleksiak gets one step closer to medal number seven, and Sarah Pavan and Melissa Humana-Paredes stay unbeaten in beach volleyball.
There was a lot to get excited about for Team Canada on Day 6.
You can check out the official schedule of Canadians who competed today at the bottom of this page and read on for the details of what happened in each sport.
Tokyo 2020 Olympic Competition Schedule and Results
GET THE TEAM CANADA APP
Rowing
Caileigh Filmer and Hillary Janssens won the bronze medal in the women's pair for Canada's first podium in rowing at Tokyo 2020. It was Canada's first medal in this event since Barcelona 1992. The Canadians in the men's pair final, Conlin McCabe and Kai Langerfeld, came incredibly close to their own medal, but finished fourth by 0.55 of a second.
READ: Filmer & Janssens wins Canada's first rowing medal of Tokyo 2020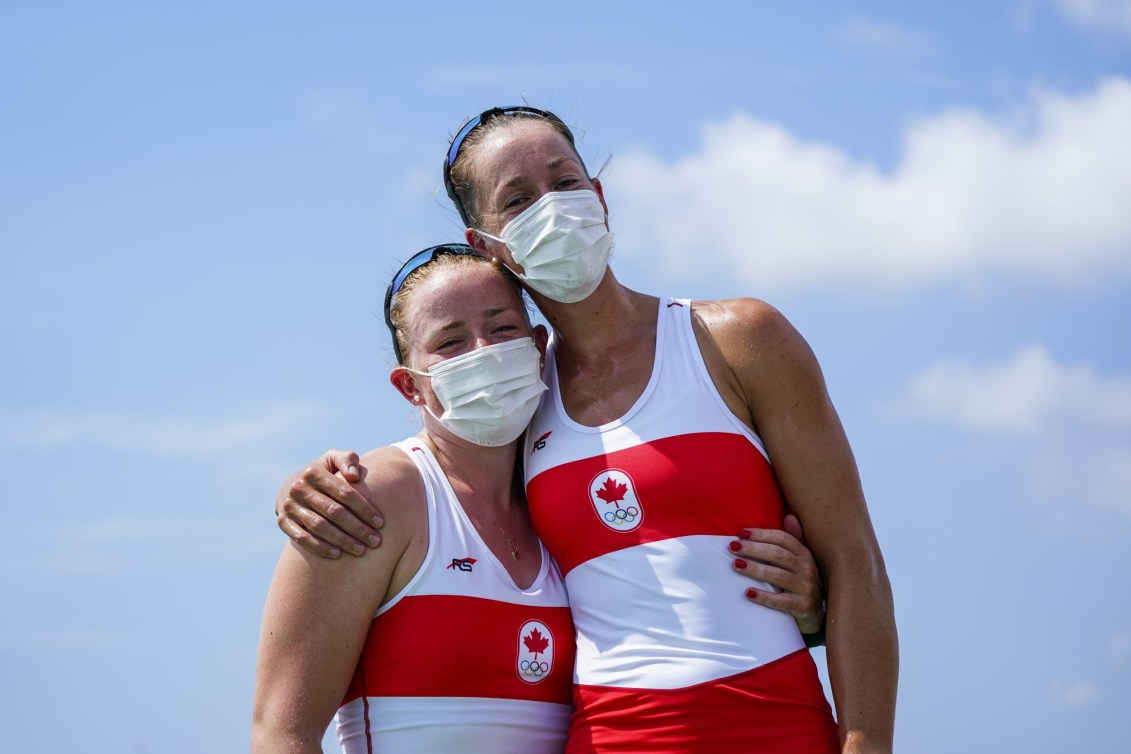 The lightweight double sculls tandems of Jill Moffatt and Jennifer Casson as well as Patrick Keane and Maxwell Lattimer competed in B finals and finished 12th overall and 10th overall, respectively.
Carling Zeeman and Trevor Jones raced in the semifinals of the women's and men's single sculls and finished fifth and sixth, respectively, meaning they will race in the B finals.
Swimming
One day after becoming Canada's most decorated summer Olympian ever, Penny Oleksiak was looking to add to her medal haul in the women's 4x200m freestyle relay with teammates Summer McIntosh, Rebecca Smith, and Kayla Sanchez. They finished fourth but set a Canadian record time of 7:43.77 in the process.
Before that, Oleksiak swam in the semifinals of the women's 100m freestyle, the event in which she is the defending Olympic champion. She advanced to the final with the fifth-fastest time. Also racing in semifinals were Markus Thormeyer in the men's 200m backstroke and Kelsey Wog in women's 200m breaststroke. Neither advanced to the final.
In the nighttime session, Kylie Masse took her first step towards a second Olympic medal as she swam in the heats of the women's 200m backstroke with Taylor Ruck. They both advanced to the semifinals, Masse tied for second overall while Ruck was sixth. Joshua Liendo finished ninth overall in the heats of the men's 100m butterfly to advance to the semifinals. Summer McIntosh finished 11th overall in the heats of the 800m freestyle and did not advance to the final. Canada will also not race in the final of the mixed 4x100m medley relay, an event making its Olympic debut, after the quartet of Javier Acevedo, Gabe Mastromatteo, Katerine Savard, and Rebecca Smith finished 13th overall in the heats.
Artistic Gymnastics
Though Ellie Black had to unfortunately withdraw from the women's individual all-around final due to an injury sustained in training, Canada was still represented by Brooklyn Moors, who finished an impressive 16th in her first Olympic final. 
Fencing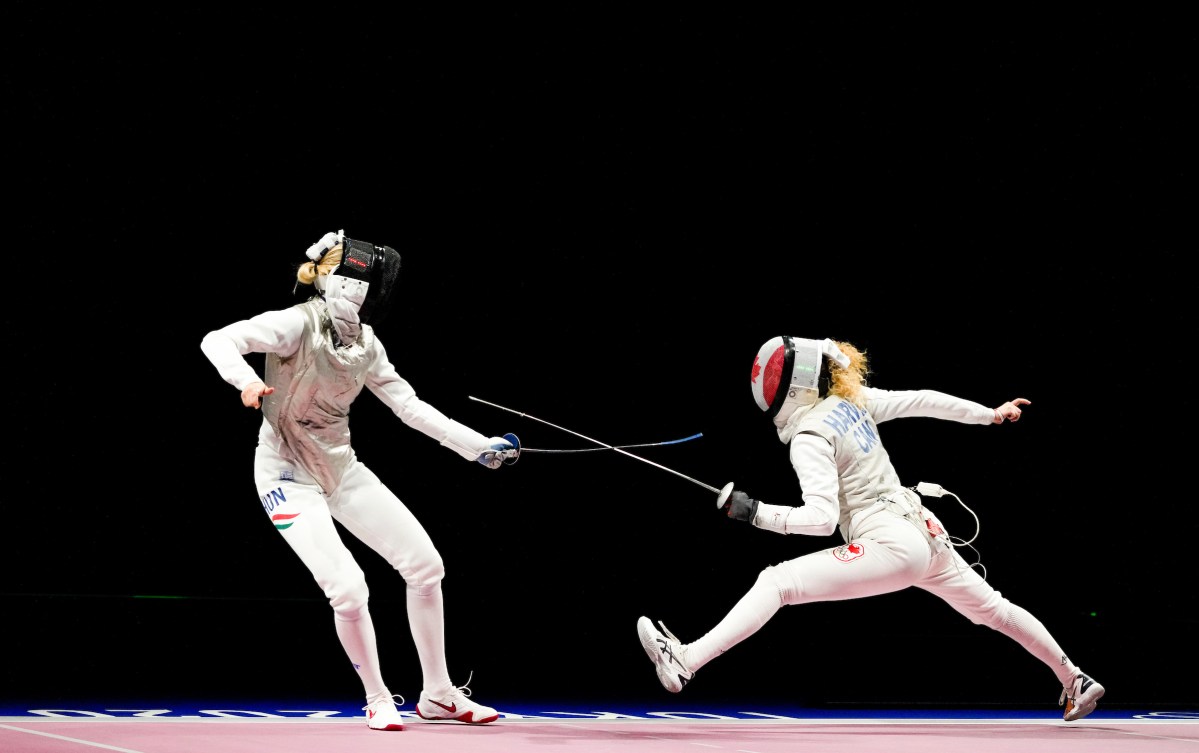 The women's foil team of Alanna Goldie, Jessica Guo, Eleanor Harvey and Kelleigh Ryan started their day with a 45-29 quarterfinal loss to France. After defeating 45-33 Hungary in the 5-8 classification round, they moved on to play Japan to determine fifth and sixth place. With the 45-31 win, they finish fifth for Canada's best ever Olympic result in the event.
Judo
The last Canadian judoka to hit the tatami was Shady El Nahas in the men's 100kg event. After winning his first two matches, he lost in the quarterfinals to world number one Varlam Liparteliani of Georgia, putting him into a repechage match. He won that to earn a shot at bronze but lost by waza-ari to world number two Jorge Fonseca of Portugal.
Badminton
Michelle Li advanced from group play with a 2-0 record and faced world number three Nozomi Okuhara of Japan in the women's singles Round of 16. She unfortunately lost 2-0 (21-9, 21-7) but by reaching this stage, Li matched Canada's best ever Olympic result in the women's singles event.
Beach Volleyball
The Pool A match between Sarah Pavan and Melissa Humana-Paredes defeated the fourth-ranked Swiss team of Anouk Verge-Depre and Joana Heidrich 2-0 (21-13, 24-22) to boost their record to 3-0. By finishing atop their pool, they advance to the Round of 16.
Heather Bansley and Brandie Wilkerson were facing world number ones Agatha and Duda of Brazil in their final Pool C match. Both teams came in with 1-1 records, but the Brazilians were unfortunately the better team on the night, winning 2-0 (21-18, 21-18). Bansley and Wilkerson finish third in their pool and are looking at playing a lucky loser match to get into the Round of 16.
Rugby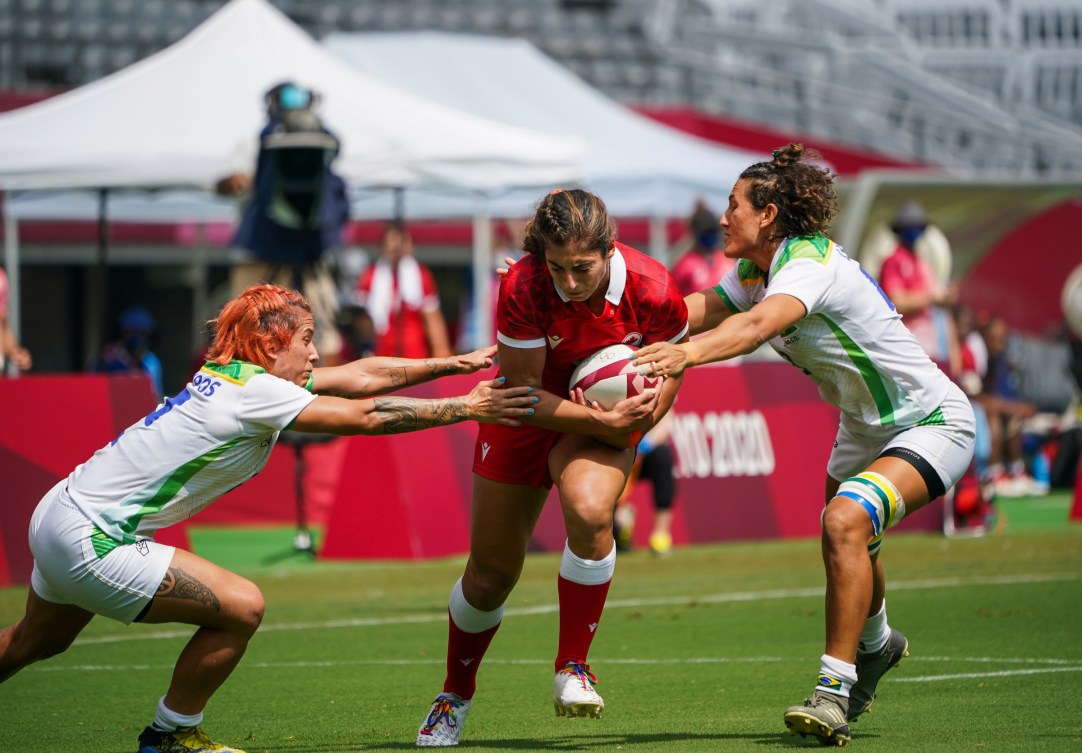 Captain Ghislaine Landry posted a try and went 4 for 5 on conversions to lead Team Canada's women's rugby sevens team to a 33-0 victory over Brazil in the first of two sessions at Tokyo Stadium. The second session wasn't kind to Canada as a bad start led to a 26-12 loss to Fiji. Canada, looking to improve upon the bronze medal they won at Rio 2016, will take on France next.
READ: Team Canada begins rugby sevens women's tournament with a victory
Basketball
After a tough opening game loss to Serbia, Toronto's Natalie Achonwa and Bridget Carleton recorded 14 and 16 points, respectively, leading Canada to a 74-53 win over South Korea in preliminary round action on Day 6. Next up for the Canadian women's team will be 2016 Rio bronze medallist Spain.
READ: Team Canada earns first basketball victory of Tokyo 2020 over South Korea
BMX Racing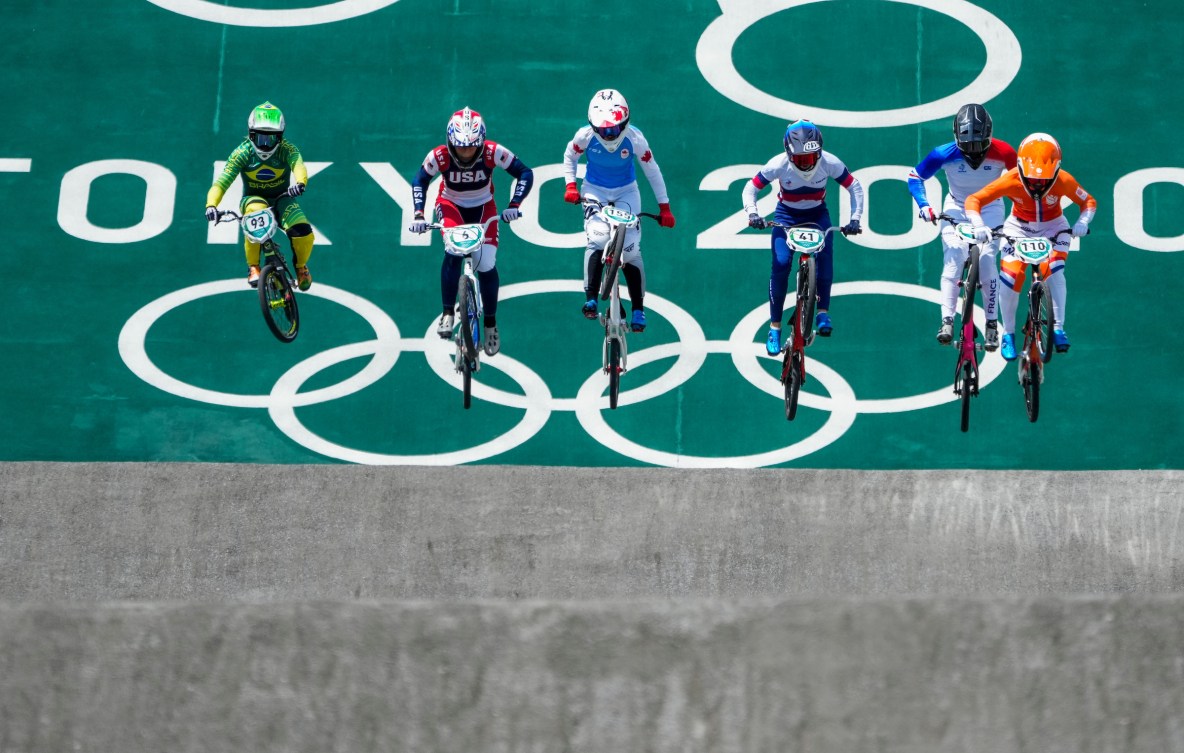 Drew Mechielsen and James Palmer competed in the quarterfinals of the women's and men's BMX races. Mechielsen finished fourth in her heat after the three runs to advance to the semifinals while Palmer was sixth in his heat and will not move on.
Golf
The men's tournament featuring Corey Conners and Mackenzie Hughes began with the first round. Both finished tied for 20th at two-under par, six strokes back of the leader.
Field Hockey
Mark Pearson scored Canada's lone goal in a 9-1 loss to Belgium, who lead Group B with a 4-0 record. The Red Caribou, who will not advance past the preliminary round, will try to earn a win in their final game of Tokyo 2020 tomorrow against South Africa, who entered Day 6 action with an 0-3 record.
Sailing
Five Canadian boats were on the water. With a fifth place finish in the eighth race of the Laser Radial, Sarah Douglas moved up the leaderboard and is now sitting eighth overall in the fleet. Tom Ramshaw sits in 14th place overall in the Finn. Jacob Saunders and Oliver Bone are 16th overall in the 470, and William Jones and Evan DePaul are 19th in the 49er. Nikola Girke is in 23rd place overall in her RS:X windsurfer.
Shooting
Lynda Kiejko started her second event of the Games, the women's 25m pistol. She is currently 41st after the qualification precision round.