Team Canada at Tokyo 2020: Day 9
A medley relay medal pushes Penny Oleksiak to the top of Canada's all-time list, Andre De Grasse sprinted to the 100m podium, and sailor Sarah Douglas hits a Canadian best ever in her Olympic debut.
You can check out the official schedule of Canadians who competed today at the bottom of this page and read on for the details of what happened in each sport.
Tokyo 2020 Olympic Competition Schedule and Results
GET THE TEAM CANADA APP
Swimming
On the final day of swimming at Tokyo 2020, Canada added a sixth medal to its haul from the pool. Penny Oleksiak anchored the 4x100m medley relay to bronze as she and teammates Kylie Masse, Sydney Pickrem and Maggie Mac Neil broke their own Canadian record with their time of 3:52.60. With her third medal of these, she ups her career total to seven, making Oleksiak Canada's most decorated Olympian of all time. Masse and Mac Neil will head home with three medals of their own.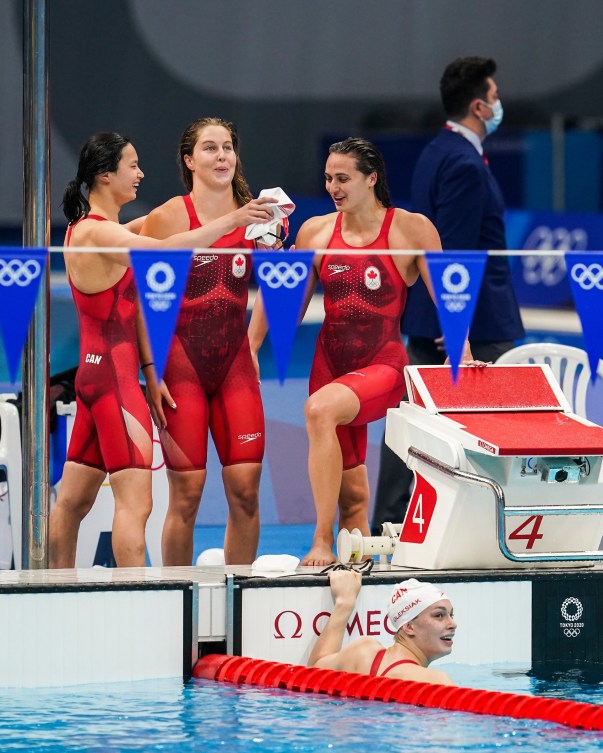 READ: Team Canada wins women's medley relay bronze at Tokyo 2020
READ: 'Best girls in the world' help Oleksiak reach seventh heaven
Canada also competed in the final of the men's 4x100m medley relay. Markus Thormeyer, Gabe Mastromatteo, Joshua Liendo, and Yuri Kisil finished seventh in a time of 3:32.42.
Athletics
The headline event of the day was the final of the men's 100m. Andre De Grasse ran a personal best 9.89 seconds to win bronze, his second straight Olympic medal in the event — the first time a Canadian has ever achieved that.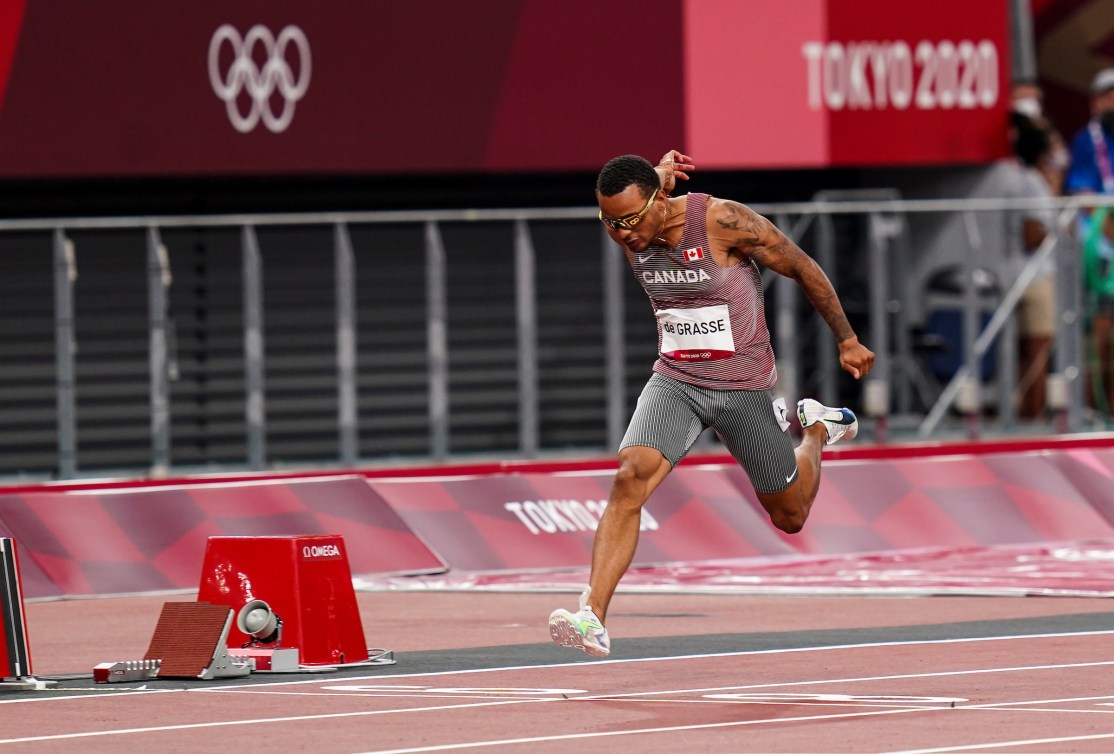 READ: De Grasse wins second straight Olympic 100m bronze at Tokyo 2020
Django Lovett cleared 2.30m in the men's high jump, finishing in eighth place. The evening session also included the semifinals of the men's 800m with Marco Arop finishing seventh in his heat, meaning he will not advance to the final.
Geneviève Lalonde brought the heat onto the track in the morning session, breaking the Canadian 3000m steeplechase record with a time of 9:22.64 to advance into Thursday's final. Alycia Butterworth (9:34.24) and previous record holder Regan Yee will not advance past their Olympic debut.
In the women's hammer throw, Camryn Rogers needed only her first throw to qualify for the final, throwing a distance 73.97m. Jillian Weir, throwing 68.68m, will not advance. Christabel Nettey was on the long jump runway to conclude the morning session, but will not advance after jumping 6.29m.
Sailing
Sarah Douglas finished sixth overall in the Laser Radial event, an impressive Olympic debut. It is the best finish ever by a Canadian woman in an individual sailing event at the Olympic Games. She had been fourth overall entering the Medal Race, but finished ninth in that race where the points for placements are doubled, and could not make her move onto the podium.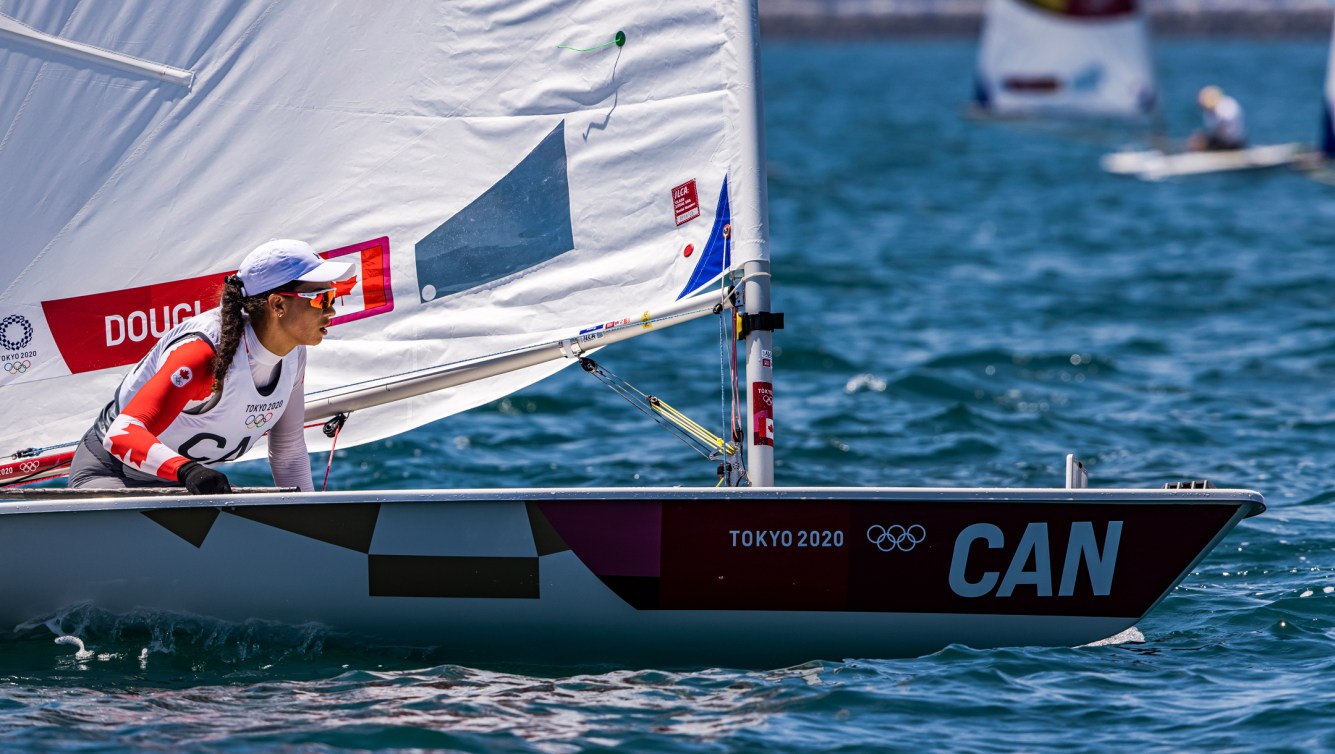 Tom Ramshaw has also qualified for the Medal Race in the Finn event. He entered the final two races of the opening series in 12th place, but a second place result in race 10 bumped him into the top 10 overall in the fleet.
Diving
Jennifer Abel was looking for her second medal of Tokyo 2020 as she competed in the final of the women's 3m springboard. After two consistent performances in the preliminary and semifinal rounds, she had a tough miss on her third dive of the final, which took her out of podium contention as she went on to finish eighth.
Artistic Gymnastics
Shallon Olsen competed in her second straight Olympic vault final, finishing seventh with a two-vault average score of 14.550.
Golf
Corey Conners and Mackenzie Hughes both entered the final round of the men's tournament tied for 17th at seven-under par, five strokes back of a podium position. Conners shot a six-under 65 on the day to move up to 13th. Hughes had a tougher day, shooting four-over to drop to 50th place.
Wrestling
Reigning Olympic champion Erica Wiebe will not get the chance to wrestle for another Olympic medal after losing her opening match in the 1/8 final to Epp Maee of Estonia. The final score was 5-4, as Maee went up 3-0 after the first period and Wiebe could not make the complete comeback.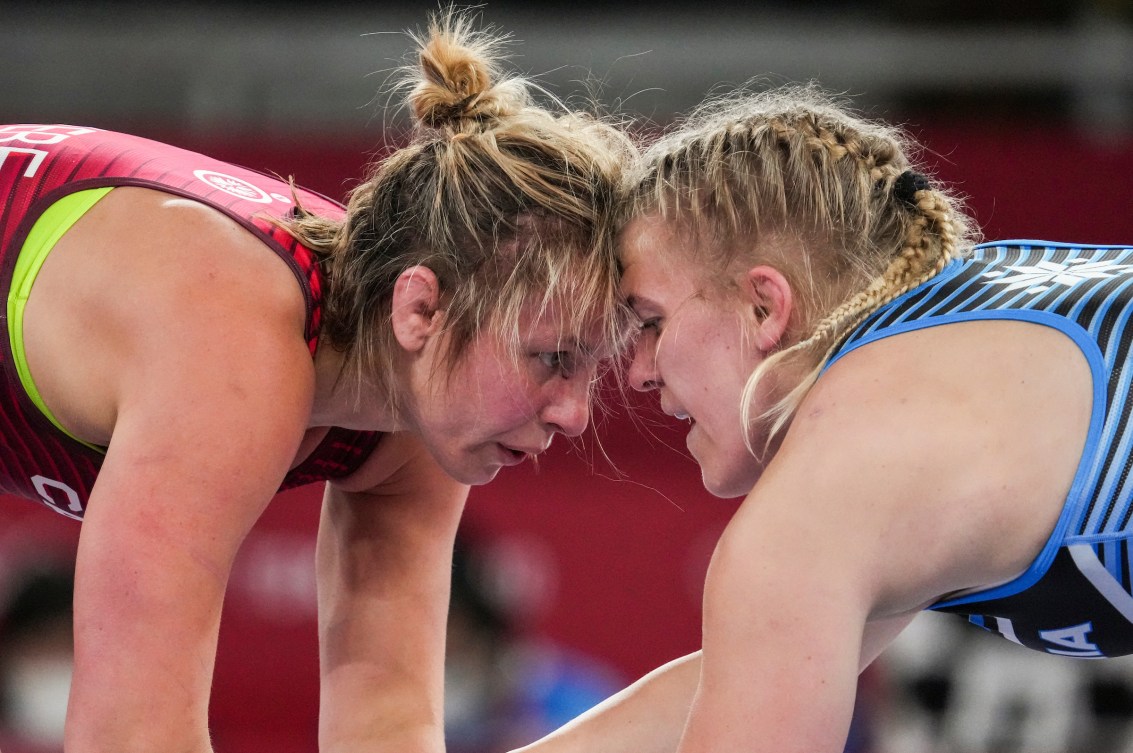 "My only goal today was to wrestle my best and I did that for the last two minutes," said Wiebe. "I think every single athlete at the Olympic Games could write a book about the challenges and the tribulations and the trials that they've had over this past year. I think I'll look back and [say] I did every single thing on my own terms and I never once backed down from any challenge. I truly believe the one who dares is the one who wins and I think I've proven to myself that I'm a winner regardless of the outcome."
Beach Volleyball
Heather Bansley and Brandie Wilkerson won their Round of 16 match against Americans Kelly Claes and Sarah Sponcil, who are ranked third in the world, 2-1 (24-22, 21-18, 15-13). Late in the third set, the Americans looked to get an edge when a challenge call went in their favour, but it was reversed in favour of the Canadians to help advance them into the quarterfinals.
"Anything can happen in these games, these are high-level games, you can never really ever be comfortable, even with something that seemingly seems like such a large gap. So I think we were just ready to win today and we weren't going to give it up," said Wilkerson.
Basketball
Team Canada played its final game of the round robin against Spain on Day 9. Needing a win to improve their quarterfinal chances, Canada lose to world number three Spain, 76-66. Canada will have to await the result between South Korea and Serbia to determine if they will advance into the semifinal round.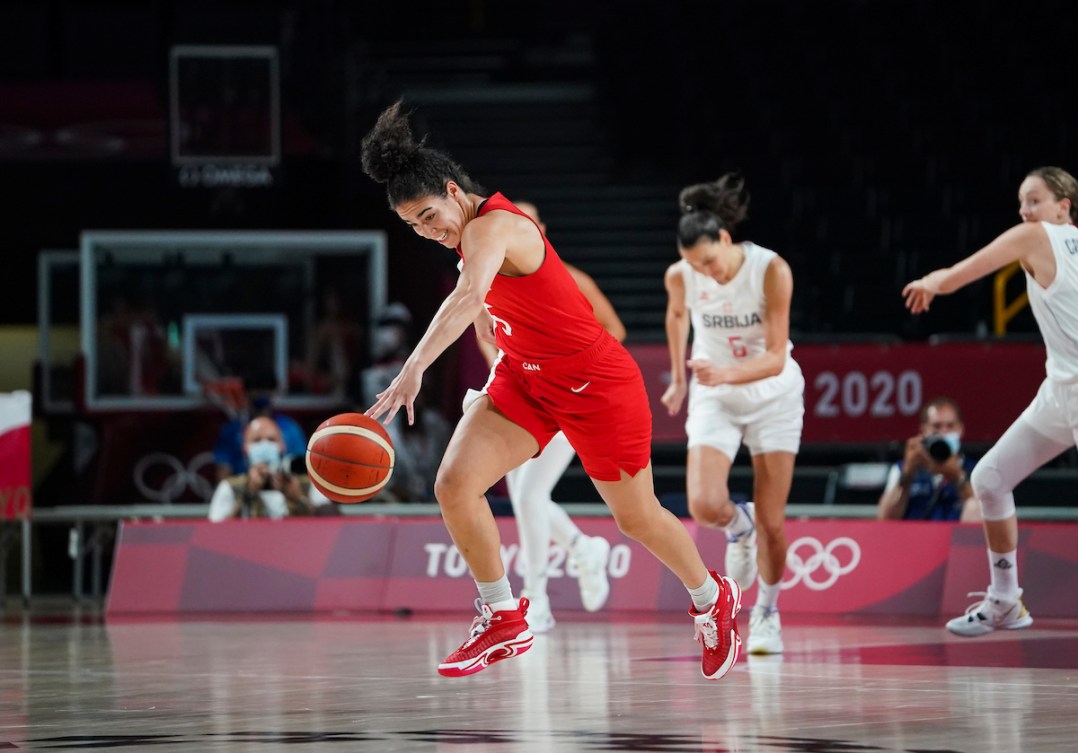 Volleyball
Canada finished play in Pool A with a straight-sets loss to the powerful team from Poland (15-25, 21-25, 16-25). But the Canadians' 2-3 record was good enough to earn them a spot in the quarterfinals on Day 11 against the winner of Pool B.
Water Polo
Team Canada lost their final game of the preliminary round, falling 16-12 to the Netherlands. Kyra Christmas scored four goals to lead Canada on offense. Despite the loss, Canada advances to the Aug. 3 quarterfinals with a 1-3 record. As the fourth-place finisher in Group A, they'll play the top-place team in Group B: the United States. The Americans, 3-1, have won gold in the past two Olympic Games.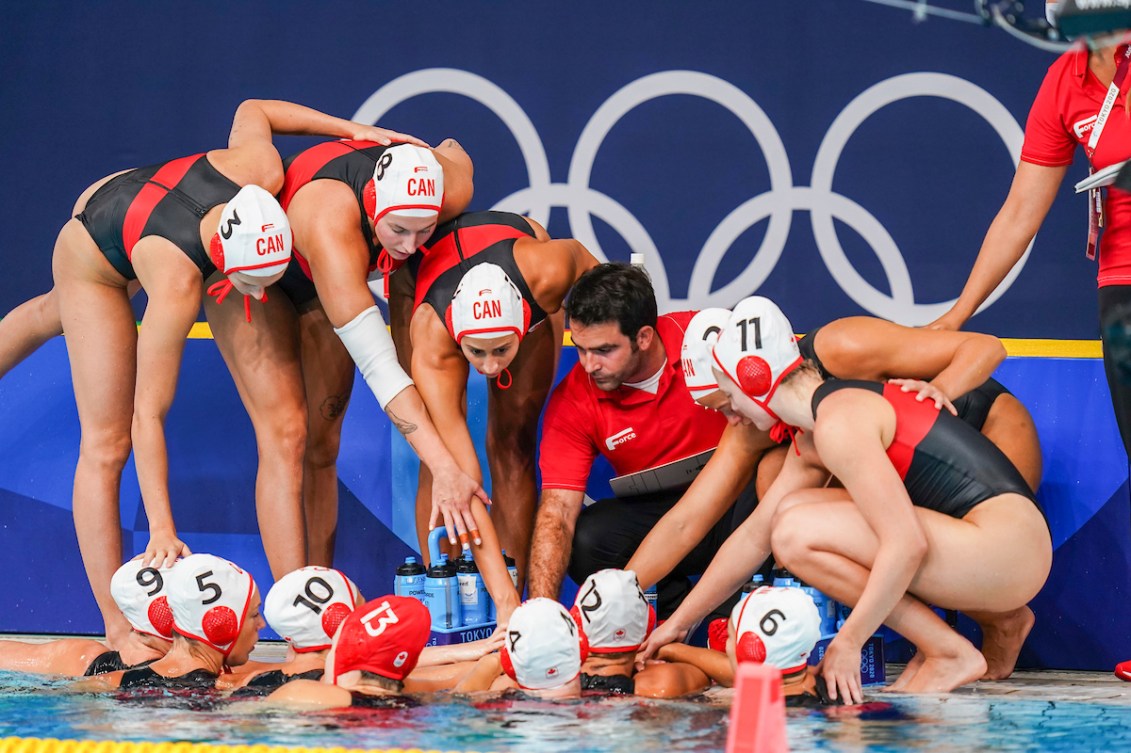 READ: Team Canada gets first women's water polo win of Tokyo 2020
Equestrian
The second phase of the individual eventing event for Colleen Loach and Qorry Blue D'Argouges was the cross-country. They are now in 26th place heading into the jumping competition.
Fencing
On the last day of fencing competitions, the men's foil team lost 45-31 in the Table of 16 to Germany.
Weightlifting
Kristel Ngarlem competed in Group B of the women's 76kg event and finished eighth overall.