Equestrian Canada/Melanie McLearon
Team Canada earns tickets to Paris 2024 at Pan Am Games
There is more than just medals on the line at the Santiago 2023 Pan American Games. For many athletes and teams it is their chance to either qualify themselves directly for the Paris 2024 Olympic Games or earn quota spots for Team Canada to which they hope to add their names next summer.
How Team Canada can qualify for Paris 2024 at the Santiago 2023 Pan Am Games
Paris 2024 Team Canada Qualification Tracker
Here is a rundown of the Olympic qualification that Team Canada has secured for Paris while in Santiago.
Boxing
Boxing is one of the sports in which athletes earn Olympic qualification by name. A semifinal victory in Santiago doesn't just guarantee a shot at the gold medal — it gives those boxers a beautiful golden ticket for themselves to Paris 2024.
Tammara Thibeault – Women's 75kg
Tammara Thibeault, the 2022 World Champion, earned a return trip to the Olympics with her dominant defeat of Mexico's Vanessa Ortiz in the semifinals. Thibeault was clearly the victor in the eyes of the judges, winning all five of them over the three rounds. Thibeault had already sailed through her Round of 16 match, which she won when the referee stopped the contest just 2:51 in. She followed up with an authoritative 5-0 victory in the quarterfinals.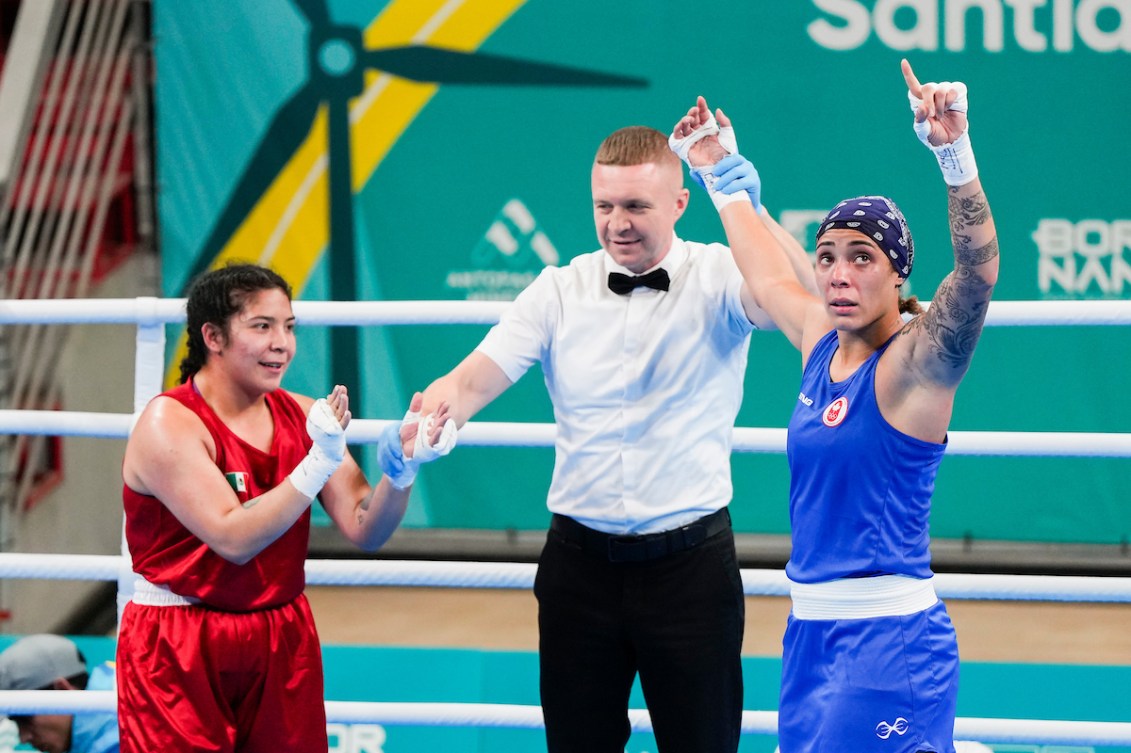 "I'm really happy to be here and I'm really happy that I finally punched my ticket to Paris," Thibeault said. "It's been a long year and we've worked so hard for this, so a lot of pressure has been relieved and tomorrow [in the final] I can just have fun."
Thibeault was a quarterfinalist in her Olympic debut at Tokyo 2020. That followed her winning a silver medal at the Lima 2019 Pan Am Games.
Wyatt Sanford – Men's 63.5kg
Also earning his second straight Olympic appearance is Wyatt Sanford. He defeated Brazilian Yuri Falcao dos Reis 5-0 in the 63.5kg semifinals. Though four of the five judges gave the first round to Falcao dos Reis, they all agreed that Sanford was the stronger boxer in the second and third rounds, giving him the victory on points. Sanford had also recorded 5-0 wins in the Round of 16 and quarterfinals.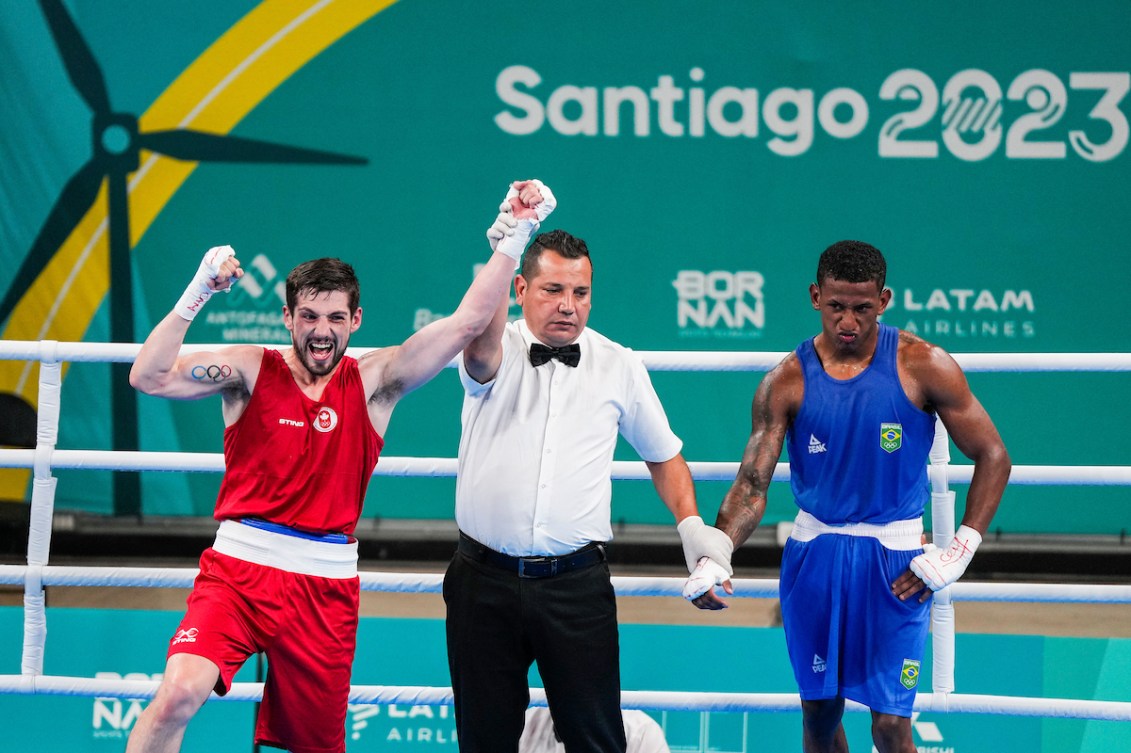 "I'm coming home to Kennetcook (Nova Scotia). I will have that ticket, and I will have that medal, and I will be coming down to the little local coffee shop. It's me in the ring, but it's for the whole community. Without my hometown, I wouldn't be where I'm at and I always fight with them on my side," Sanford said.
Breaking
All Olympic spots in breaking are awarded directly to the athletes who earned them.
Philip Kim (B-Boy Phil Wizard) – B-Boys
There was one Olympic spot available to be claimed in each breaking event at Santiago 2023. They would go to the highest-ranked athlete representing a country that hadn't earned a spot for that gender at the 2023 WDSF World Championships.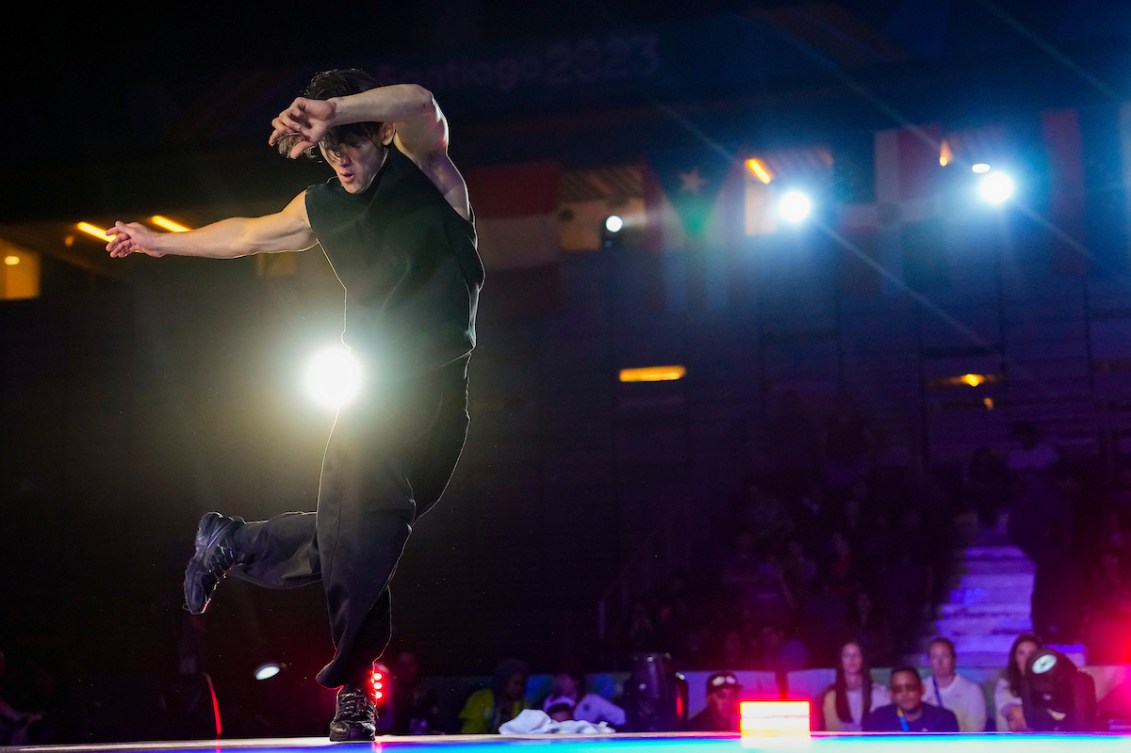 Because American B-Boy Victor had already qualified for Paris 2024 with his win at the worlds, the United States could not get a second men's spot in Santiago. That meant that as soon as the final was set to feature Canadian B-Boy Phil Wizard (Philip Kim) and American B-Boy Jeffro, the golden ticket for breaking's Olympic debut was coming to Canada. With his Olympic spot secured, Kim was even more motivated to go out and win his final battle to bring home the first B-Boys gold medal ever awarded at the Pan Am Games.
"Honestly, the Olympic place means more to me. I want to be there. I want to be part of history," Kim said. "Going into the final, I'd already secured my spot, but it honestly gave me more of a push because it would have been bittersweet to secure my spot to Paris and then lose the battle."
"In the last year I can say it's been a roller-coaster ride, but I've grown so much as a person as well as an artist and an athlete because of the process we've had to go through. It's pushed me in ways that I've never been pushed before and I'm very grateful for that."
Equestrian
All Olympic quota spots in equestrian are earned for the country and the riders and horses who will make up the teams in each discipline will be determined next year.
Team Dressage
Four young equestrians from Quebec accomplished the task they set out for and qualified Canada for the team dressage competition at Paris 2024. Those will be the second straight Olympic Games at which Canada will have a full dressage team.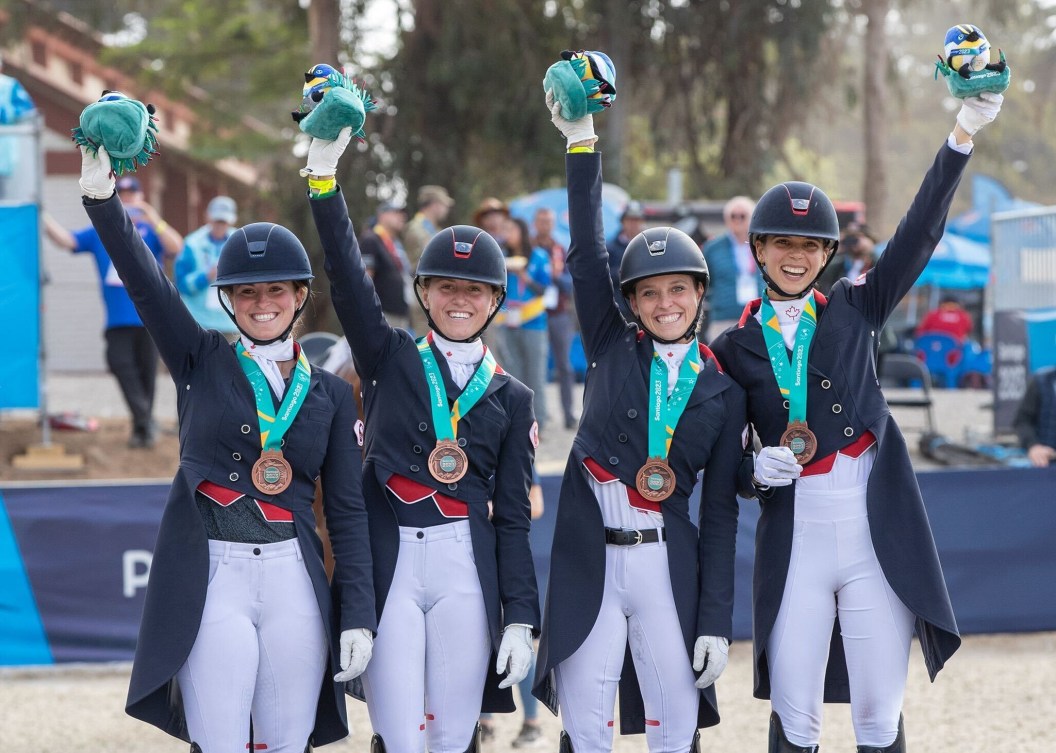 The Canadian quartet of Beatrice Boucher (riding Summerwood's Limei), Camille Carier Bergeron (riding Sound of Silence 4), Mathilde Blais Tetreault (riding Fedor), and Naima Moreira Laliberté (riding Statesman) won the bronze medal, which was enough to secure the Olympic spot. Team USA won the gold medal, but since they had already qualified their Olympic spot at the 2022 FEI World Championships, that meant the two spots reserved for the Pan American region went to the other two teams on the podium, silver medallists Brazil and Canada.
Only Moreira-Laliberté had represented Canada in a multi-sport Games before, making her the veteran of the squad at the age of 26. Four years ago at Lima 2019, she had been part of Canada's gold medal in team dressage, which qualified the country for Tokyo 2020.
The dressage competition in Santiago began on Sunday, after which the Canadians found themselves in third place following four solid tests. They maintained that positioning through the second day of competition, finishing with a total of 431.937 points. The Americans earned the victory with 450.670 and Brazil followed with 443.343.
"We qualified Canada for the Olympics!" said Blais Tetreault. "We did our job. We're super happy with all our rides. Our horses were amazing. Everybody showed up to work."
Team Eventing
Canada has also qualified a full eventing team for Paris 2024 after being represented in the discipline by just one athlete at Tokyo 2020.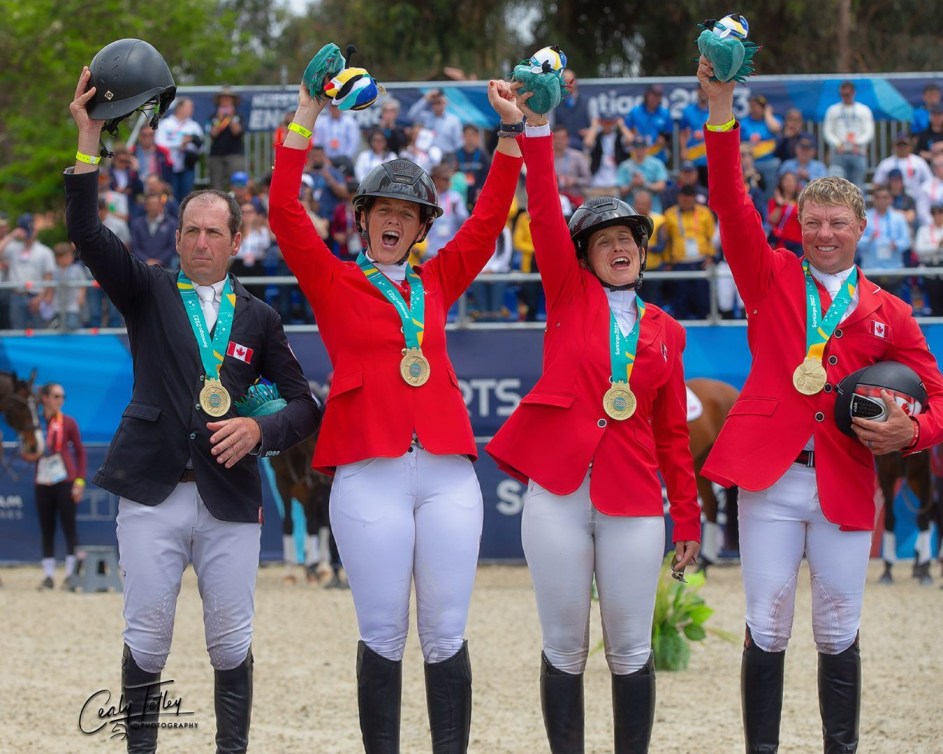 That lone rider was Colleen Loach, who was part of the quartet that won gold at Santiago 2023 to secure the Olympic spot for next summer. Riding Fe Golden Eye, she was joined by Lindsay Traisnel (riding Bacyrouge), Karl Slezak (riding Hot Bobo), and Michael Winter (riding El Mundo).
Canada had opened the competition by placing second in the dressage test. They were in third place following the cross-country test, behind only the United States (who were already qualified for Paris 2024 after winning silver at the 2022 FEI Eventing World Championships) and Brazil, putting them in great position to claim one of the two available Olympic spots in team eventing.
But the Canadians leapfrogged both teams with some outstanding performances in the final jumping test. Led by Traisnel, who won individual bronze, Canada finished with a score of 115.6, giving them the victory by 0.1 over the United States while Brazil took bronze. Slezak, Winter, and Loach finished 4-5-6 in the individual standings.
"It was kind of unexpected. We just went out and did our thing today. And got amazing results! We are just so proud of our team, we work great together and I was just so happy to be part of it," Traisnel said of the gold medal. "It was definitely the most important part of our trip, getting that qualification, so we're very happy to have done that."
Team Jumping
Canada will also be represented by a full jumping team at Paris 2024 after qualifying just one individual entry for Tokyo 2020.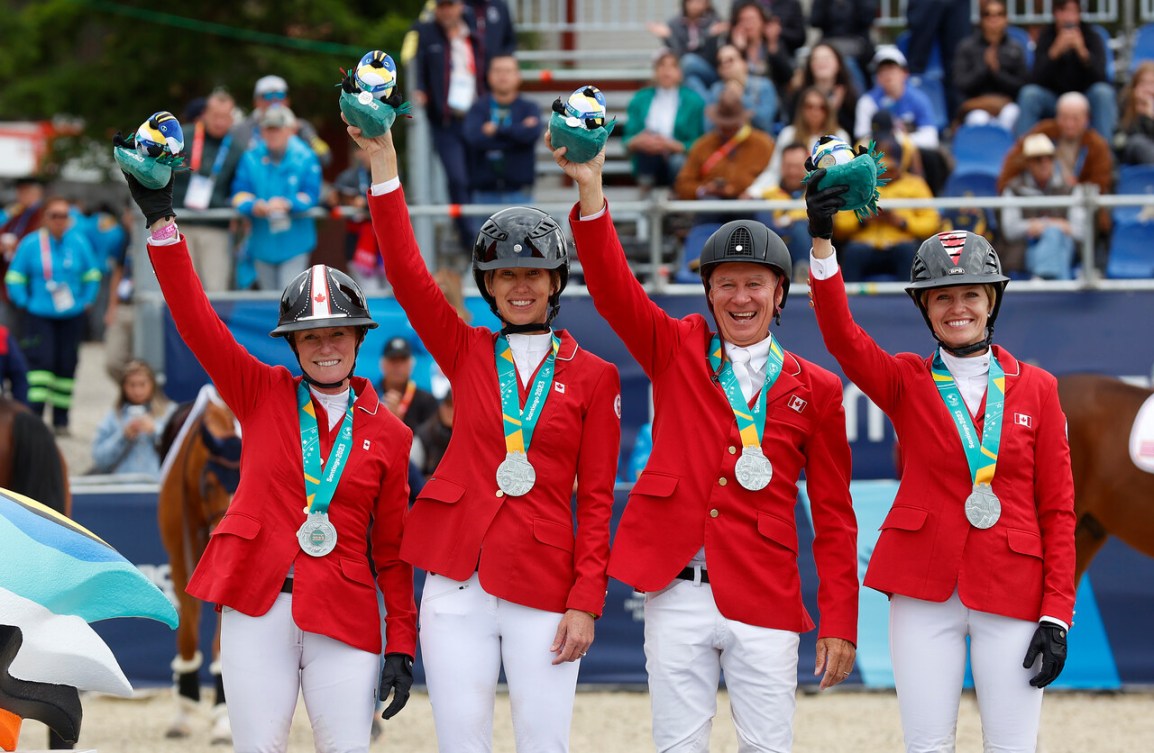 Mario Deslauriers had been that lone rider, making his return to the Olympics for the first time since he competed at Los Angeles 1984 and Seoul 1988. With his horse, Emerson, he was part of the quartet in Santiago that won team silver to clinch the Olympic berth.
Joining him on the podium were Tiffany Foster (riding Figor), Amy Millar (riding Truman) and Beth Underhill (riding Nikka Vd Bisschop). This was an extremely experienced team. Foster is a two-time Olympian who competed at London 2012 and Rio 2016. Millar was one of her teammates in Rio. Underhill, who made her Olympic debut at Barcelona 1992, is the oldest athlete on Team Canada in Santiago at the age of 61.
Canada finished the three rounds of jumping that took place on Tuesday and Wednesday with a total of 17.62 faults. That put them only behind the United States' 12.37. Brazil, who had already secured its Olympic spot, took the bronze with 20.32. Fourth-place Mexico claimed the third Olympic team jumping spot available in Santiago.
Foster and Figor posted two clear rounds on Wednesday, which ranks them as the top Canadian horse-rider combo in the individual event. They head into the final day of competition on Friday ranked fifth overall.
Canada had been in third place after Wednesday's first session. But clean runs by Millar and Underhill in the afternoon meant the team could drop Deslauriers' four faults from their score. The lone miss in the second round of the day had come when Emerson had knocked down a rail at the very end of the run.
"We would not have been satisfied with anything less and we couldn't be more excited to be on the podium like that and going to Paris!' said Underhill.
Sailing
All Olympic quota spots in sailing are earned for the country and will be allocated to specific sailors and crews next year based on other competition results and criteria. Coming into Santiago, Canada had already qualified an entry in the women's dinghy (ILCA 6) at the 2023 Sailing World Championships.
Women's Skiff (49er FX)
With their silver medal in the women's skiff (49er FX), Ali ten Hove and Mariah Millen were the top-ranked crew from North America and the Caribbean in Santiago, earning for Canada the lone Olympic spot available for the region in this class. They finished two points ahead of the crew representing the United States, who were already qualified for Paris 2024.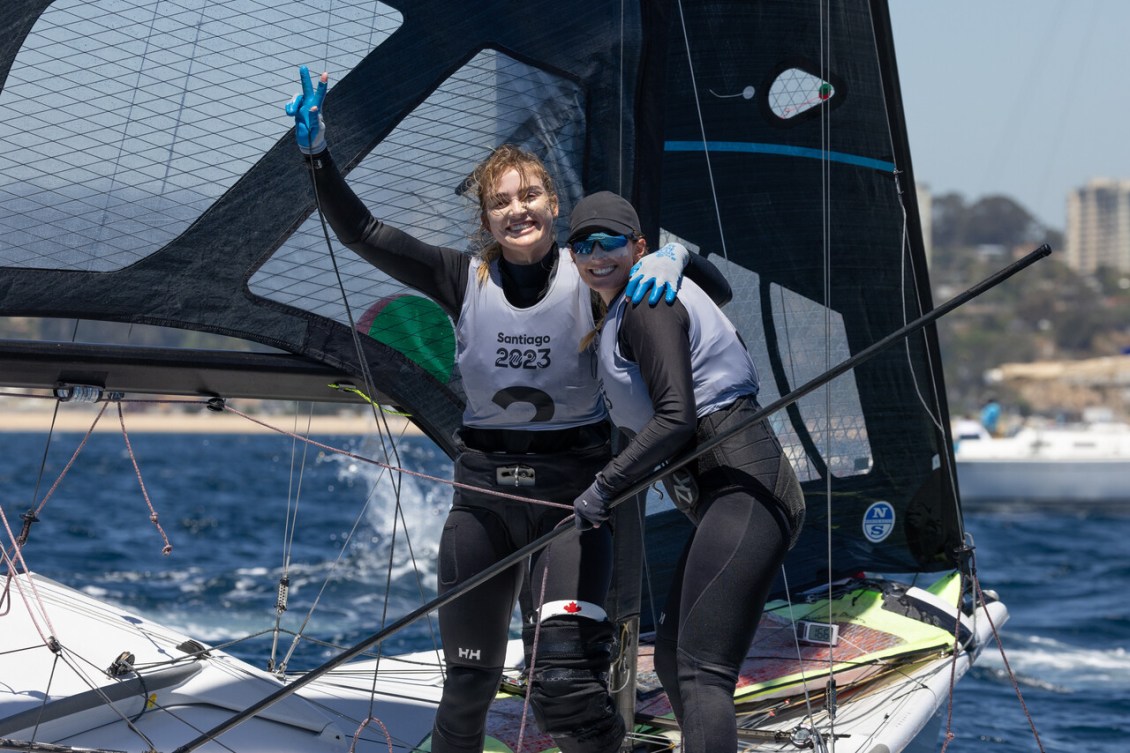 Men's Skiff (49er)
The bronze medal by William Jones and Justin Barnes in the men's skiff (49er) made them the top-ranked crew from North America and the Caribbean who were not already qualified, securing the Olympic spot for Canada. The United States won the gold medal, but had already earned Olympic qualification in this class at the 2023 Sailing World Championships.
Women's Kite
Canada will have an entry in this new Olympic event at Paris 2024. There was one quota spot available at Santiago 2023 for sailors from North America and the Caribbean. Emily Bugeja finished as the top-ranked women's kite athlete who was representing a country in the region not yet qualified.
Shooting
All shooting quota spots are earned for the country and will be allocated to individual athletes next year based on other competition results and criteria.
Women's 50m Rifle 3 Positions
Canada's first Olympic quota spot in shooting for Paris 2024 came courtesy of Shannon Westlake's bronze medal in the women's 50m rifle 3 positions event. A pair of Americans won gold and silver, but the United States had already earned the maximum two quota spots it could have in the event.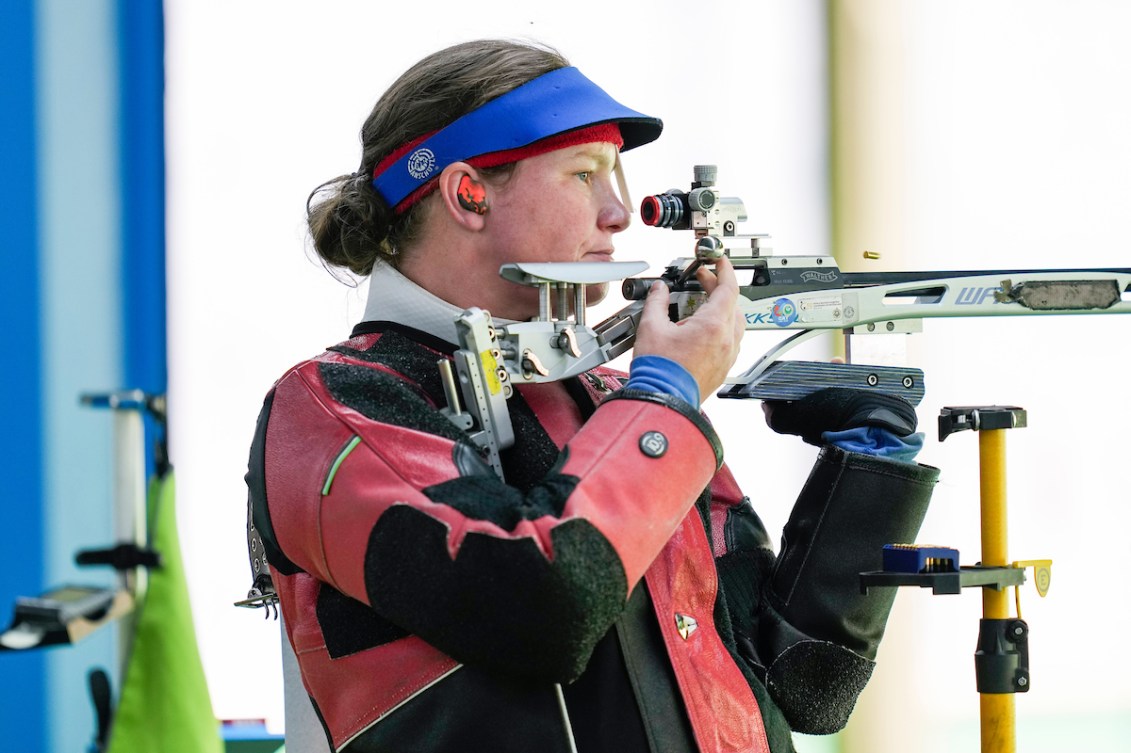 Westlake was competing in her third straight Pan Am Games, but this was her first time reaching the podium. The last time Canada qualified an Olympic entry in any women's rifle event was for Sydney 2000.
"All of the work that I've put in and all of the people that have supported me…it was just so nice to have it all come together today," Westlake said through happy tears, "I'm just ecstatic."
Men's 10m Air Pistol
Tugrul Ozer set a Pan Am Games record to win the gold medal in the men's 10m air pistol event. Ozer totalled 240.5 points, giving him a narrow victory over American James Hall, who scored 239.3. The victory gives Canada the lone Olympic spot that was available in the event at Santiago 2023.
The last time Canada qualified an Olympic entry in the men's 10m air pistol was for Barcelona 1992.
Surfing
Surfing is another sport in which athletes earn Olympic spots for themselves by name. However, all Olympic qualification in surfing is considered provisional until the athletes have fulfilled some eligibility requirements, which does include being available to their national team for participation in the 2024 ISA World Surfing Games.
Sanoa Dempfle-Olin – Women's Shortboard
Sanoa Dempfle-Olin is set to become Canada's first ever Olympic surfer after no Canadians qualified for the sport's Olympic debut at Tokyo 2020.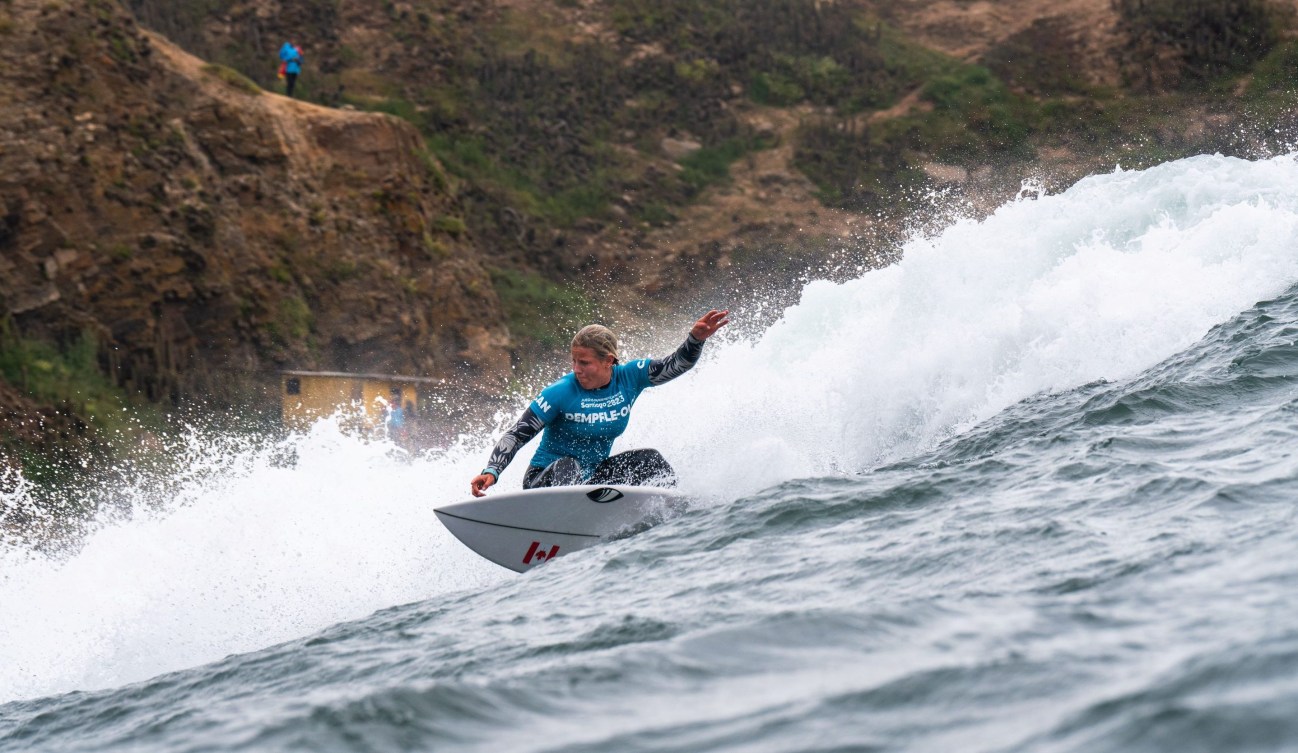 At Santiago 2023 there was one Olympic spot available in each of the women's and men's shortboard events. Dempfle-Olin put herself in contention to claim the women's spot when she advanced to the bronze medal heat, where she faced Costa Rica's Leilani McGonagle. The winner would not only move on to the gold medal heat against Brazil's Tatiana Weston Webb, but also claim the Olympic ticket as Weston Webb is already qualified for Paris 2024 via the 2023 World Surf League Championship Tour.
Dempfle-Olin scored 5.50 and 4.50 on her two attempted waves to soundly defeat 2020 Olympian McGonagle, who only totalled 4.20 on both of her waves.
"Having the opportunity to head to Paris 2024 is something, I don't even know what that looks like yet," said Dempfle-Olin. "I'm definitely very excited and I can't believe it. I'm just very grateful and I'm excited to see where it brings me with all of the fun times and the learning that is going to come with it."