Team Canada women keep making history as fight for gender equity continues
A little over a year from now, the Olympic Summer Games are expected to achieve full gender balance for the first time ever.
That parity in the number of female and male athletes has been a long time coming and has only been achieved after many sports made gradual adjustments. At Paris 2024, athletics, boxing, and cycling will feature an exact 50-50 split of men and women for the first time ever, 128 years after the first Olympic Games of the modern era.
READ: Paris 2024 to have exact gender equality in athlete participants
As great as that is, there is still work to be done, however, to ensure that equality goes beyond the sheer number of Olympic competitors.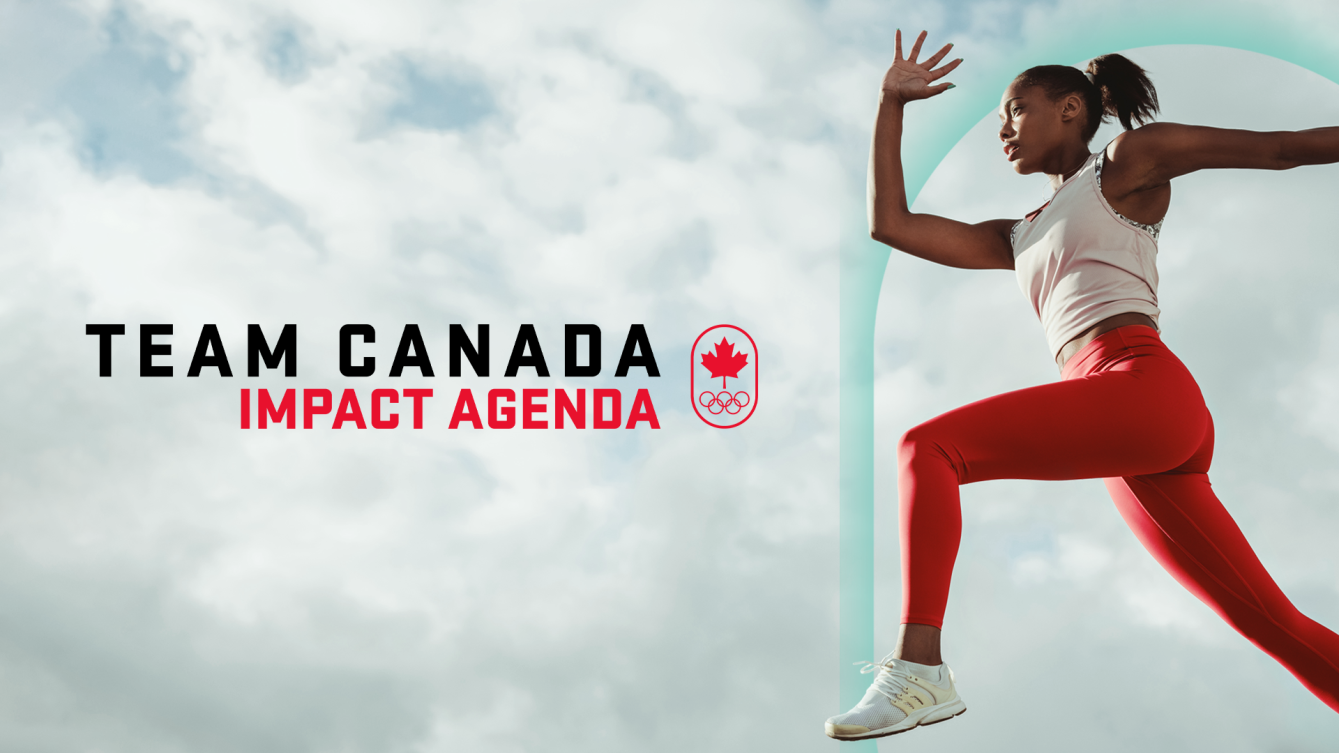 The theme of International Women's Day in 2023 is #EmbraceEquity, encouraging us all to work collectively towards a world that is free of bias and discrimination, a world that is diverse and inclusive.
A big part of that is celebrating women's achievements.
Team Canada has its share of movers and shakers who have certainly made their mark on sport. Even if we keep our line of sight squarely on the recent past, the historic accomplishments of these Canadian women are deserving of some big applause.
Ellie Black & Artistic Gymnastics Team
Team Canada produced perhaps the biggest surprise of the 2022 FIG Artistic Gymnastics World Championships when Ellie Black, Laurie Denommée, Denelle Pedrick, Emma Spence, and Sydney Turner won the bronze medal in the women's team event. It was the first time Canada had ever won a team medal at the artistic gymnastics worlds and it qualified a full Canadian women's team for Paris 2024. In fact, those were the first quota spots that Canada officially secured for the next Olympic Games.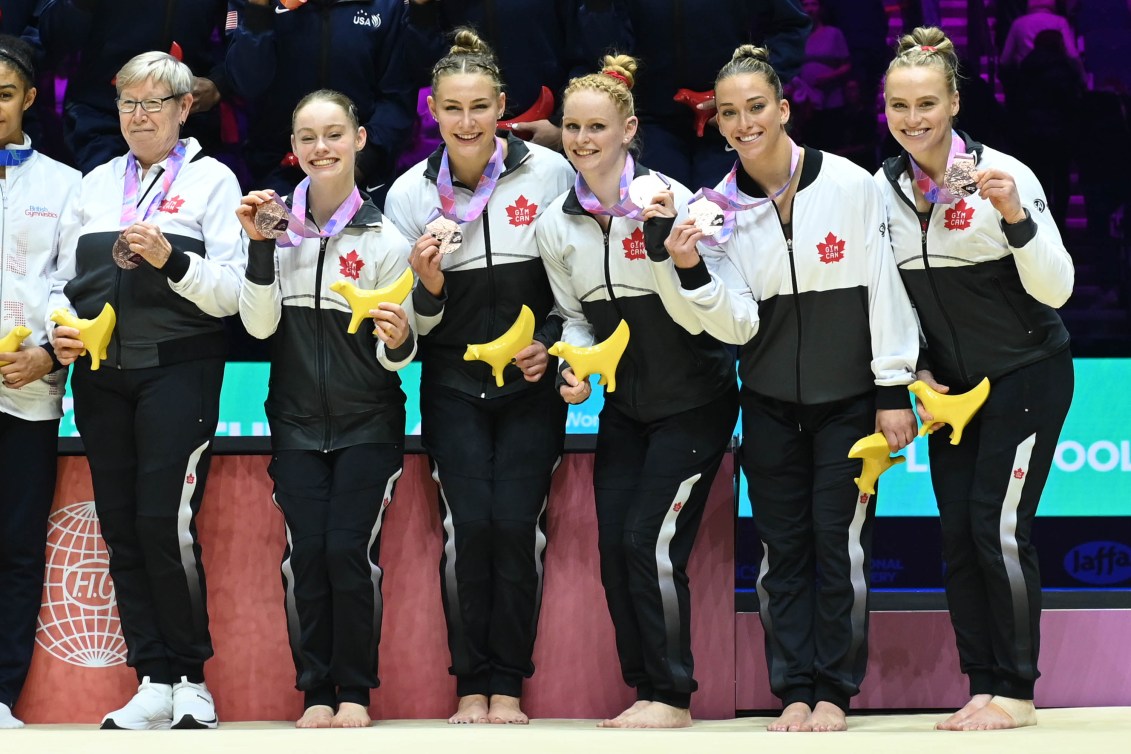 READ: Tears of joy for surprising and historic gymnastics team medal
Black, already Canada's most successful artistic gymnast ever, became even more of a legend in Liverpool. At 27, she was the oldest competitor in the women's team final. She went on to finish fifth in the individual all-around – the third time she had placed in the top five in the event at the worlds – before adding silver on the beam for her first world medal on an individual apparatus.
Camryn Rogers & Sarah Mitton
They're record breakers who have achieved results beyond what any Canadian had ever achieved in their respective events.
Camryn Rogers, of Canada, competes during qualifying for the women's hammer throw at the World Athletics Championships Friday, July 15, 2022, in Eugene, Ore. (AP Photo/David J. Phillip)

Canada's Sarah Mitton from Brooklyn, N.S. reacts to a throws on the way to winning a gold medal in the shot put at the Commonwealth Games in Birmingham, England on Wednesday, Aug. 3, 2022. THE CANADIAN PRESS/Andrew Vaughan
After finishing a Canadian Olympic best-ever fifth in the women's hammer throw at Tokyo 2020, Camryn Rogers took her career up a notch in 2022. She threw a Canadian record 77.67m to win her third NCAA title. She then won silver in her debut at the World Athletics Championships, becoming the first Canadian woman to win a world medal in a field event. She tacked on a gold medal at the Commonwealth Games for good measure.
Sarah Mitton became the first Canadian woman to surpass the 20-metre mark in shot put when she tossed a national record 20.33m to win the Canadian title in 2022. Her fourth-place finish at the 2022 World Athletics Championships – where she was pushed off the podium by a tiebreaker – was Canada's best ever result in women's shot put at the worlds.
Brooke Henderson
Every tournament that Brooke Henderson wins on the LPGA Tour adds to her history-making career – and she's still only 25 years old! In January, she won the season-opening Tournament of Champions, defeating a truly elite field. That was her 13th career LPGA title, which puts her well over the total achieved by any Canadian man in professional golf. In fact, Henderson has been Canada's all-time leader in pro golf victories since she earned win number nine back in 2019.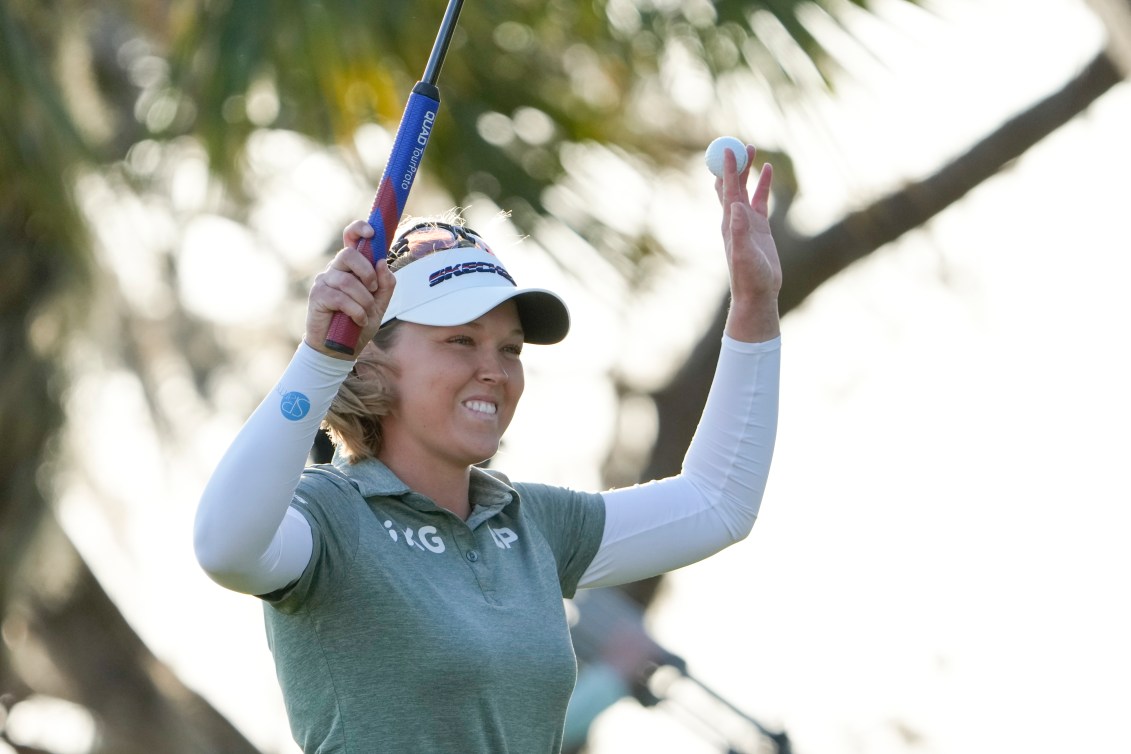 READ: Brooke Henderson's 13 legendary LPGA Tour victories
Summer McIntosh & Penny Oleksiak & Kylie Masse
Over the last six years, the Canadian women's swimming team has become a major force in the sport. At the 2022 World Aquatics Championships, eight of Canada's 11 medals in the swimming pool (ranking the country third in the meet) were won in women's events.
At 15, Summer McIntosh became the first Canadian swimmer to ever win two gold medals at the worlds with her victories in the 200m butterfly and 400m individual medley. At the Commonwealth Games a month later, she was Canada's most decorated athlete with her haul of six medals.
Summer McIntosh of Canada looks back after winning the women's 200m Butterfly final at the 19th FINA World Championships in Budapest, Hungary, Wednesday, June 22, 2022. (AP Photo/Petr David Josek)

Penny Oleksiak competes at the 2022 World Aquatics Championships in Budapest, Hungary (Photo: Swimming Canada/Ian MacNicol)

Kylie Masse wins silver in the women's 100m backstroke at the 2022 World Aquatics Championships in Budapest, Hungary (Photo: Swimming Canada/Ian MacNicol)
READ: Summer McIntosh and Canadian swimming team load up on medals
Penny Oleksiak's Olympic exploits have been well documented. But Canada's most decorated Olympian is also Canada's most decorated swimmer all-time at the World Aquatics Championships. She won four relay medals in 2022 to bring her career total at the worlds up to nine medals.
Kylie Masse isn't far behind with her eight career world championship medals. The first Canadian swimmer to ever win back-to-back world titles in the same event (100m backstroke in 2017 and 2019), five of her medals were won in individual events, including another gold in the 50m backstroke in 2022.
Christine Sinclair
Christine Sinclair is the all-time leader in international soccer goals – no matter how much the internet might try to tell you it's Cristiano Rinaldo. That fact became the focus of an initiative out of New Zealand called "Correct the Internet" about the impact of bias.
Sinclair sits at 190 goals (compared to just 118 for Ronaldo), notched over a career that has now spanned more than 22 years. She is the undisputed leader of the Canadian Women's National Team, even as younger players start to take more of the spotlight on the pitch.
Off the pitch, her voice is more resonant than ever. Sinclair is working with former teammate Diana Matheson to launch a domestic professional women's soccer league. She has also shown that she will always fight for fair treatment for her and her teammates.
3×3 Basketball Team
The Plouffe sisters – Katherine and Michelle – and their teammates Paige Crozon and Kacie Bosch are not about to let some hard-to-comprehend qualification criteria keep them out of another Olympic Games. This past summer, they proved that they are the world's best women's 3×3 basketball squad.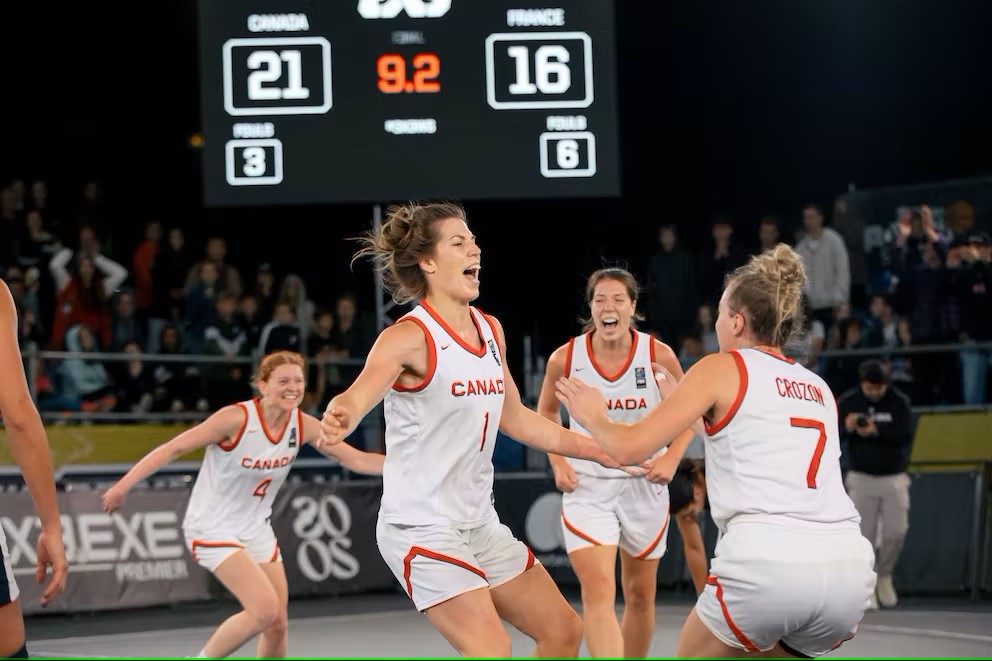 READ: Team Canada puts past behind to reach new heights in women's basketball
After winning silver in Canada's first ever appearance at the women's FIBA 3×3 World Cup, they won four events during the FIBA 3×3 Women's Series – including the Final – to finish first in the overall rankings. Their mission in 2023 is to keep the momentum going, with a focus on locking up a spot at Paris 2024.
Laurence St Germain & Valérie Grenier
Heading into this alpine skiing season, it was Canada's men's speed team that was attracting much attention based on their breakout results in 2022. But a strong women's technical team was not sitting idly by. Instead, they came through with their own astonishing moments.
The biggest one came at the FIS Alpine World Ski Championships where Laurence St-Germain stunned the GOAT of women's slalom skiing and captured the gold medal. Having never placed higher than sixth in a World Cup slalom race, St-Germain was as perfect as she could be through both runs. She became Canada's first world champion in slalom in 63 years.
Canada's Laurence St-Germain shows her gold medal of the women's World Championship slalom, in Meribel, France, Saturday Feb. 18, 2023. (AP Photo/Alessandro Trovati)

The winner Canada's Valerie Grenier celebrates after an alpine ski, women's World Cup giant slalom race, in Kranjska Gora, Slovenia, Saturday, Jan. 7, 2023. (AP Photo/Giovanni Auletta)
READ: Laurence St-Germain crowned world champion in slalom
A few weeks earlier, Valérie Grenier had won Canada's first gold medal in a women's World Cup giant slalom race since 1974. This could be the start of a new great era in Canadian women's alpine skiing. Remember, Canada has won more Olympic medals in women's alpine skiing events than in men's events!
Alexandria Loutitt & Abigail Strate
It was just before women's ski jumping was first included on the Olympic program in 2014 that Alexandria Loutitt began her love affair with the sport. A decade later, she became the first Canadian woman to win a World Cup ski jumping event, earning the victory in a normal hill competition in Zao, Japan this past January.
But that wasn't the end of her history-making moments. In early February, she became the first Canadian woman to win a world junior title in ski jumping. A month later, she became the first Canadian to be crowned world champion in any ski jumping event as she took the gold medal in women's large hill.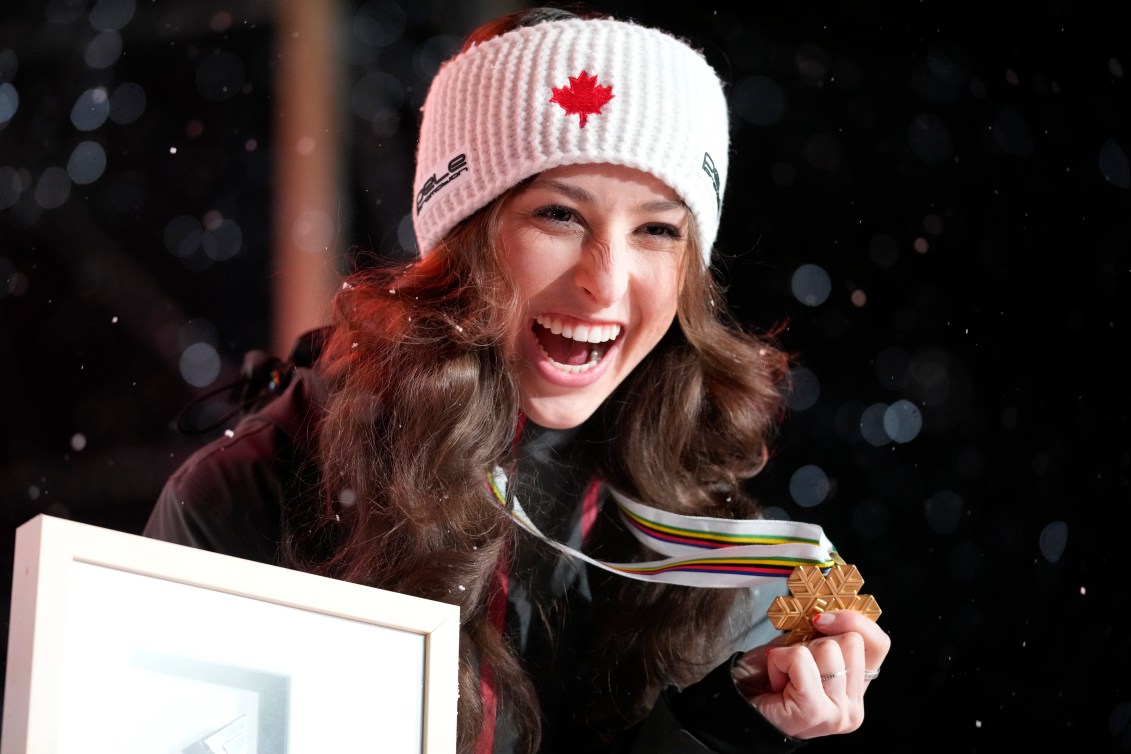 READ: Loutitt soars to Canada's first ever World Cup win in women's ski jumping
READ: Loutitt makes more history, crowned Canada's first ski jumping world champion
Just a couple of weeks after Loutitt's World Cup breakthrough, her teammate Abigail Strate earned her own World Cup medal, taking bronze in a large hill event. It is the first time that Canada has had two women stand on World Cup ski jumping podiums in the same season. Both had been part of history at Beijing 2022 where they helped win Canada's first ever Olympic ski jumping medal, a bronze in the debut of the mixed team event.
At Milano Cortina 2026, women will finally have two individual ski jumping events – just like the men – when a large hill event is added to the normal hill event.
Caitlin Nash & Natalie Corless
Back in December 2019, Caitlin Nash and Natalie Corless became the first women to compete in a World Cup doubles luge race. At the time, doubles was an open gender event, but only men had ever competed in it. So it wasn't surprising when Nash and Corless focused on singles in an attempt to qualify for Beijing 2022.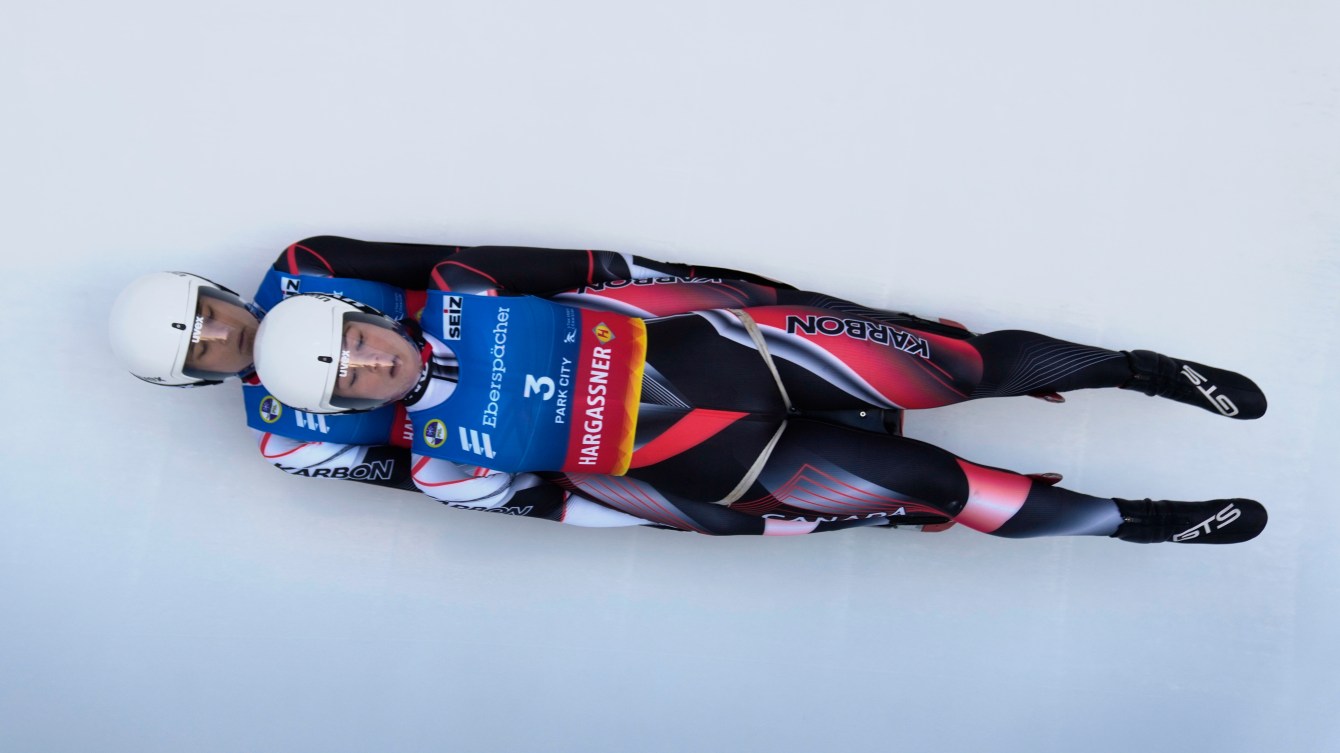 READ: Historic bronze in luge for Caitlin Nash and Natalie Corless
However, a few months after Corless made her Olympic debut on a solo sled, it was announced that women's doubles would be added to the program for Milano Cortina 2026. The teenage duo decided to reunite. In December 2022 they won bronze in Park City, Utah for Canada's first ever World Cup medal in a women's doubles luge event.
Megan Oldham & Laurie Blouin
One is a skier, the other a snowboarder. But both have been at the forefront in pushing progression on the women's side of their respective sports.
READ: 5 cool Canadian moments at the 2023 Winter X Games
At the Winter X Games in Aspen at the end of January, Megan Oldham became the first skier or snowboarder to ever land a triple cork (three flips and four rotations off axis) in competition as she won ski big air gold. The historic trick earned her the first ever perfect score of 50 in women's big air at the X Games.
A day later, Laurie Blouin landed the first cab triple underflip 1260 in women's snowboarding, taking the bronze medal in big air. Over the course of one weekend, the future of women's freeski and snowboard went way next level.
Deanna Stellato-Dudek
At the turn of the millennium, Deanna Stellato was a promising singles figure skater who, at 16, won silver for the U.S. at the world junior championships. A little over a year later, she retired after battling multiple injuries. Fast forward to 2016. After starting a career as an aesthetician and getting married, she realized she still had Olympic dreams and decided to come back as a pairs skater, which meant learning a whole bunch of new skills from scratch.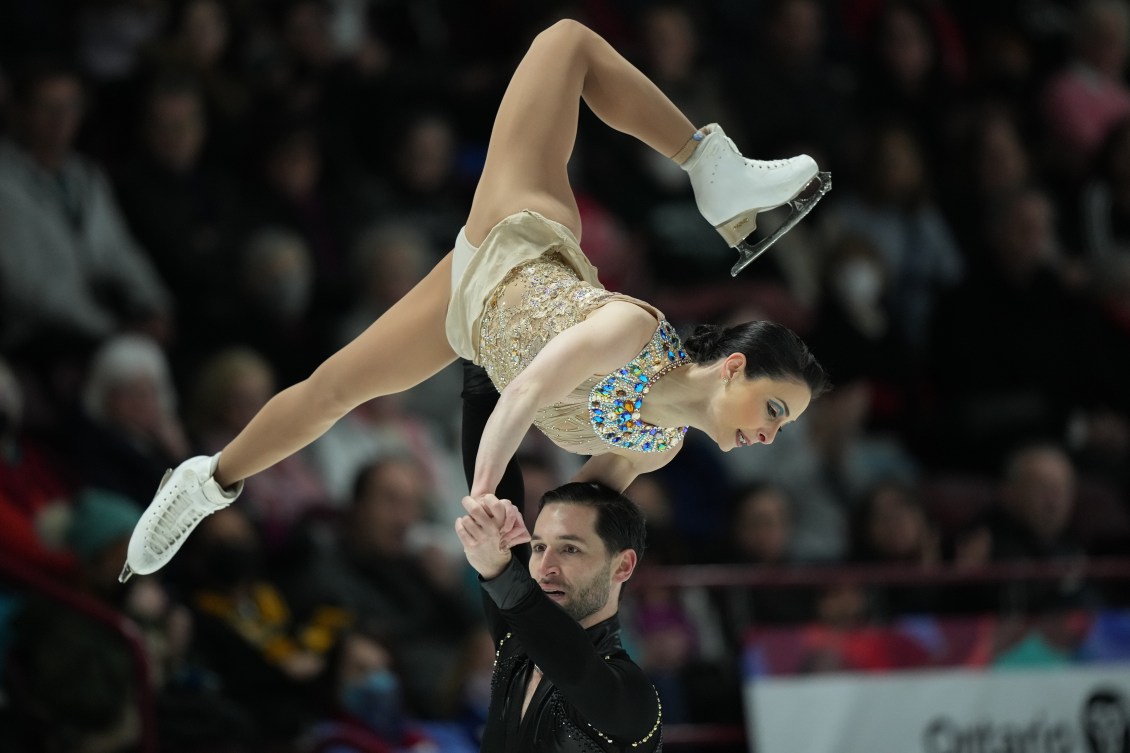 Stellato-Dudek moved to Canada in 2019 to partner with Maxime Deschamps. In their fourth season together, they made incredible breakthroughs this past fall. At 39, Stellato-Deschamps became the oldest Grand Prix medallist and oldest Grand Prix gold medallist in the history of the series. After winning their first national title this past January, they won bronze at the Four Continents Championships as Stellato-Dudek returned to an ISU Championship podium after 23 years. Age is really just a number, after all.