Team Canada at Tokyo 2020: Day 3
Maggie Mac Neil won Canada's first gold medal of the Games and Jessica Klimkait made Canadian history in the birthplace of judo.
That's just the tip of the iceberg when it came to Canadian athletes and teams in action on Day 3 at Tokyo 2020.
You can check out the official schedule of Canadians who competed today at the bottom of this page and read on for the details about what happened in each sport.
Tokyo 2020 Olympic Competition Schedule and Results
GET THE TEAM CANADA APP
Swimming
A day after she won silver with the 4x100m freestyle relay, Maggie Mac Neil became Canada's first Olympic champion of Tokyo 2020 as she won the 100m butterfly in Canadian and Americas record time of 55.59 seconds. Mac Neil lowered her national record by almost a quarter of a second as she edged out China's Zhang Yufei to the wall by 0.05 of a second.
READ: Mac Neil wins Canada's first gold of Tokyo 2020 in 100m butterfly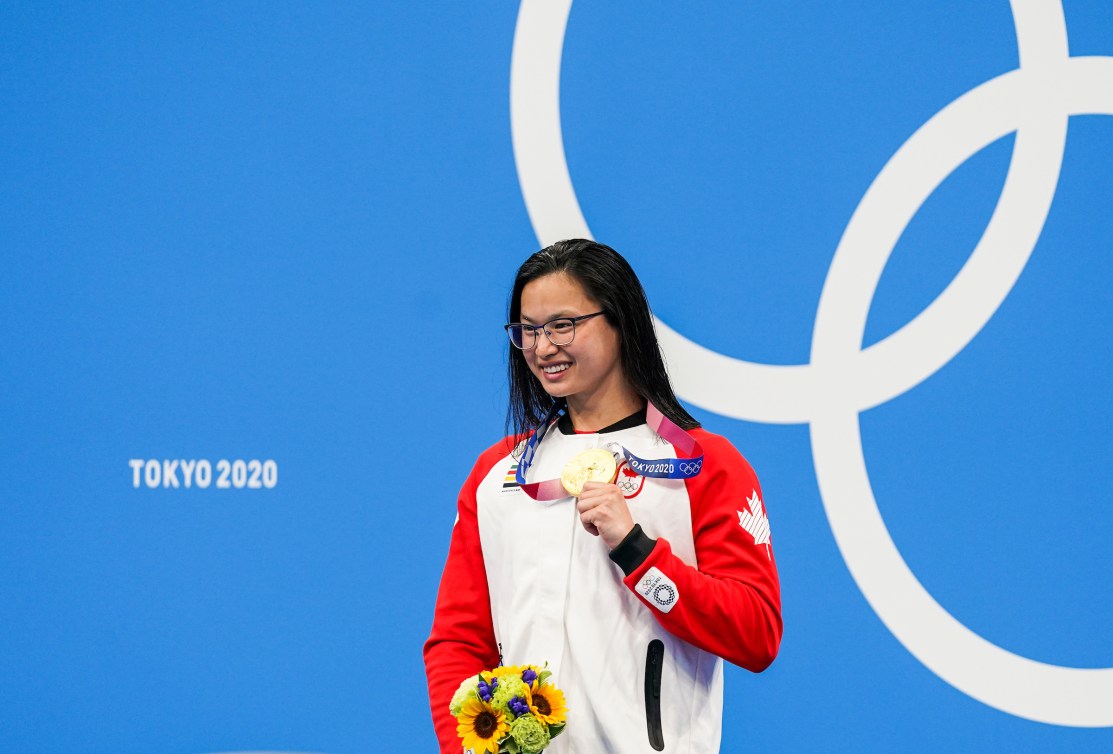 Teen phenom Summer McIntosh created more buzz with her fourth place finish in the women's 400m freestyle as she lowered the Canadian record she had set in the heats to 4:02.42. The 14-year-old had been in the top three through the 300m mark before being passed for the podium.
There was also an exciting finish in the men's 4x100m freestyle relay as the quartet of Brent Hayden, Joshua Liendo, Yuri Kisil, and Markus Thormeyer placed fourth in a time of 3:10.82, breaking the national record that had stood in the event since Beijing 2008. They were just out-touched for bronze by six-tenths of second by Australia.
Also racing in the morning was two-time reigning world champion Kylie Masse, who won her 100m backstroke semifinal heat in 58.09 seconds and qualifies for the final second overall behind American Regan Smith, who swam 57.86 to break the Olympic record. Taylor Ruck just missed out on advancing to the final, finishing ninth, 0.15 out of the top eight.
The evening session featured Penny Oleksiak and McIntosh in the 200m freestyle heats, as they both advanced to the semifinals, finishing second and fifth overall, respectively. Sydney Pickrem finished sixth overall in the 200m IM heats to advance to that semifinal while Bailey Andison came up just two spots shy in 18th place. Katrina Bellio finished 21st overall in the heats of the women's 1500m freestyle which is being included on the Olympic program for the first time.
Judo
Reigning world champion and world number one Jessica Klimkait became the first female Canadian judoka to win an Olympic medal, capturing a bronze in the women's 57kg event. Klimkait bounced back from a tough loss in the semifinal to defeat Slovenia's Kaja Kajzer in a bronze medal bout at the Nippon Budokan, the same venue at which Doug Rogers won Canada's first ever Olympic judo medal at Tokyo 1964.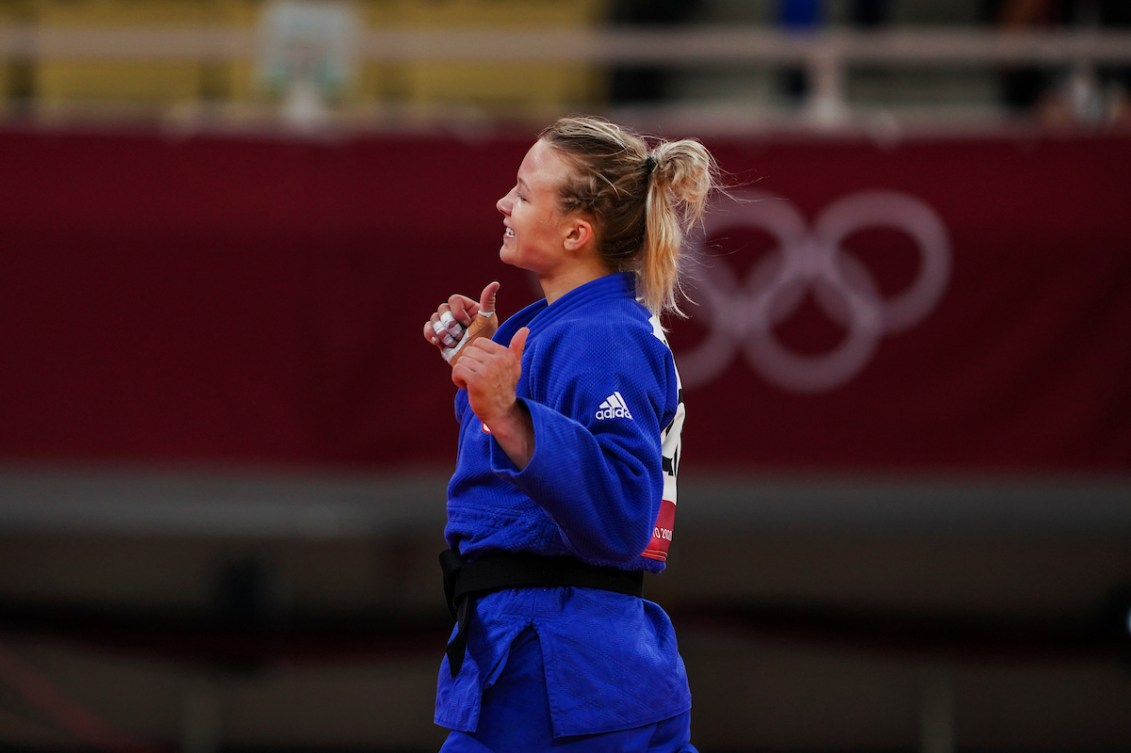 The first Canadian male judoka in action at these Games was Arthur Margelidon in the 73kg event. After a quarterfinal loss, he won his repechage match to earn a spot in a bronze medal bout, where he lost by ippon to Tsgotbaatar Tsend-Ochir of Mongolia.
Triathlon
The first triathlon of the Games was the men's individual event, with Tyler Mislawchuk and Matt Sharpe representing Canada. It was an early morning start in Tokyo for the 1500m swim, 40km bike and 10km run. Both were riding at the front of the peloton during the bike leg and Mislawchuk stayed in the medal mix for the first half of the run before he experienced some cramping and fell behind the leaders. He ended up finishing 15th, with Sharpe crossing the line 49th.
Diving
Vincent Riendeau and Nathan Zsombor-Murray were atop the tower at the Tokyo Aquatics Centre, competing in the men's 10m synchro event as they battled seven other teams for the podium. They were in the medal mix until a miss on their most difficult dive in the fifth round and ended up in fifth place overall, matching Canada's best ever result in the event. This was the first time a Canadian duo had qualified for the men's 10m synchro since Athens 2004.
Skateboarding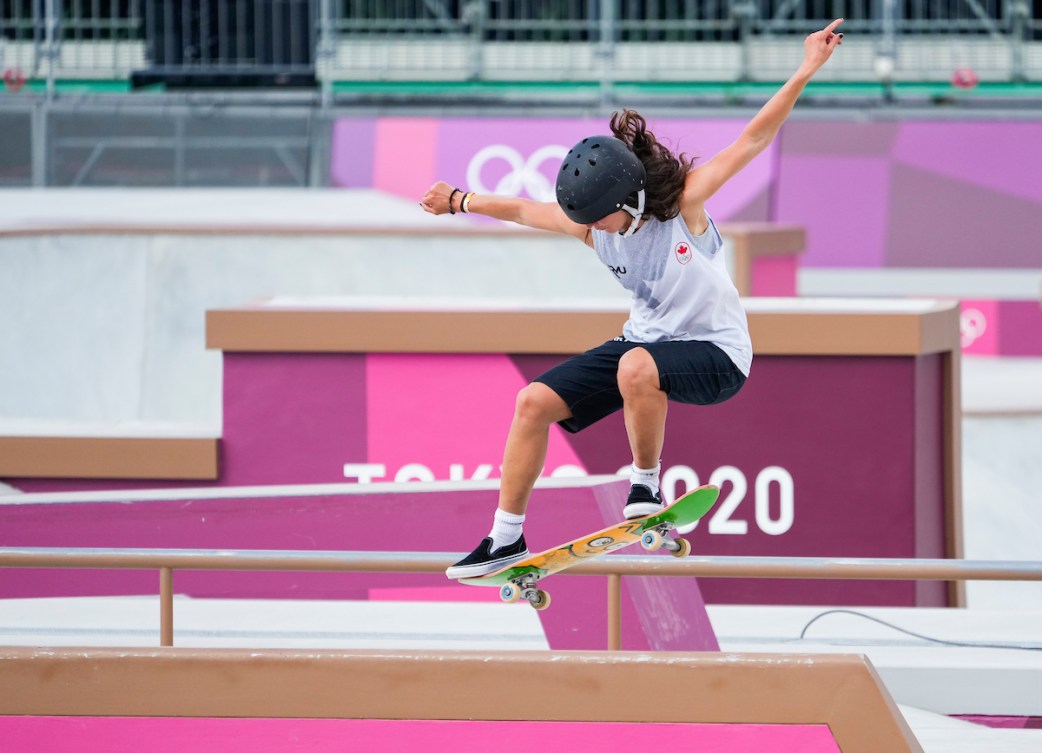 The most recent addition to Team Canada at Tokyo 2020, Annie Guglia competed in the women's street competition just a couple of days after finding out she would even get to be part of skateboarding's Olympic debut. Guglia finished 19th overall.
Mountain Bike
Canada's lone entry in the 28.25km men's cross-country race was Peter Disera, who finished 26th at the Izu MTB Course.
Weightlifting
The first Canadian weightlifter to compete in Tokyo was Rachel Leblanc-Bazinet in the women's 55kg event. She finished third in the B Group and 12th overall, lifting a total weight of 181kg (82kg snatch, 99kg clean and jerk).
Softball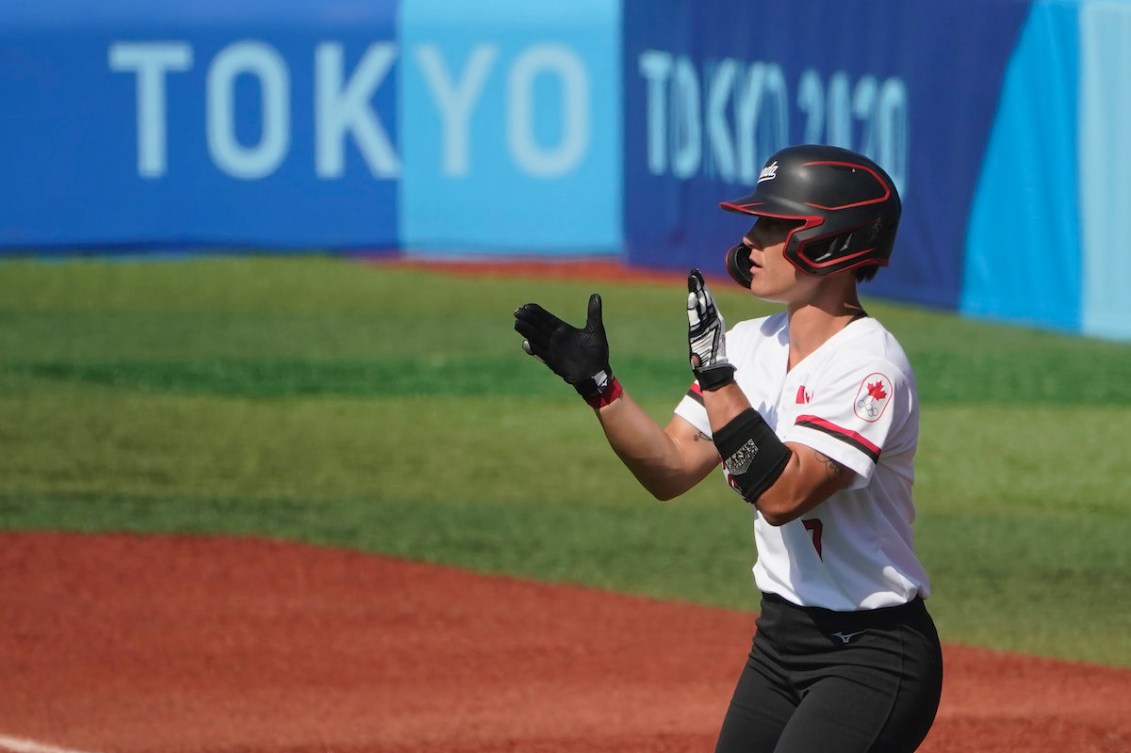 Canada completed opening round play with a solid 8-1 win over Italy. Victoria Hayward recorded three runs, a hit and two RBIs in the victory while Larissa Franklin added a hit and three RBIs. Canada, 3-2, had already earned a spot in the bronze medal game and will play the winner of the Mexico-Australia contest. Canada has never medaled in softball at an Olympic Games with their best finish being fourth at Beijing 2008.
Basketball
The Canadian women's basketball team got their Olympic tournament started at the Saitama Super Arena, storming back in the third quarter after a slow first half. Capitalizing on Serbia's turnovers, Canada limited their opponents to only nine points in the third quarter, but could not hold on as they lose 72-68 to the 2016 Olympic bronze medallists.
Beach Volleyball
Sarah Pavan and Melissa Humana-Paredes made it two wins in a row as they defeated Borger and Sude of Germany, ranked 15th in the world, 2-0 (21-17, 21-14). They have one more match remaining in pool play.
Tennis
Leylah Fernandez was eliminated from the women's singles tournament with her second round loss to eighth-seed Barbora Krejcikova of the Czech Republic. The match ended in straight sets, 6-2, 6-4.
Fencing
Three Canadian men – Alex Cai, Maximilien van Haaster, and Eli Schenkel — took to the piste for the individual foil event, but were unfortunately eliminated early, Cai in the Table of 64 and van Haaster and Schenkel in the Table of 32. Gabriella Page was Canada's long entry in the women's individual sabre but was defeated by American Mariel Zagunis, the 2004 and 2008 Olympic champion, in the Table of 32.
Boxing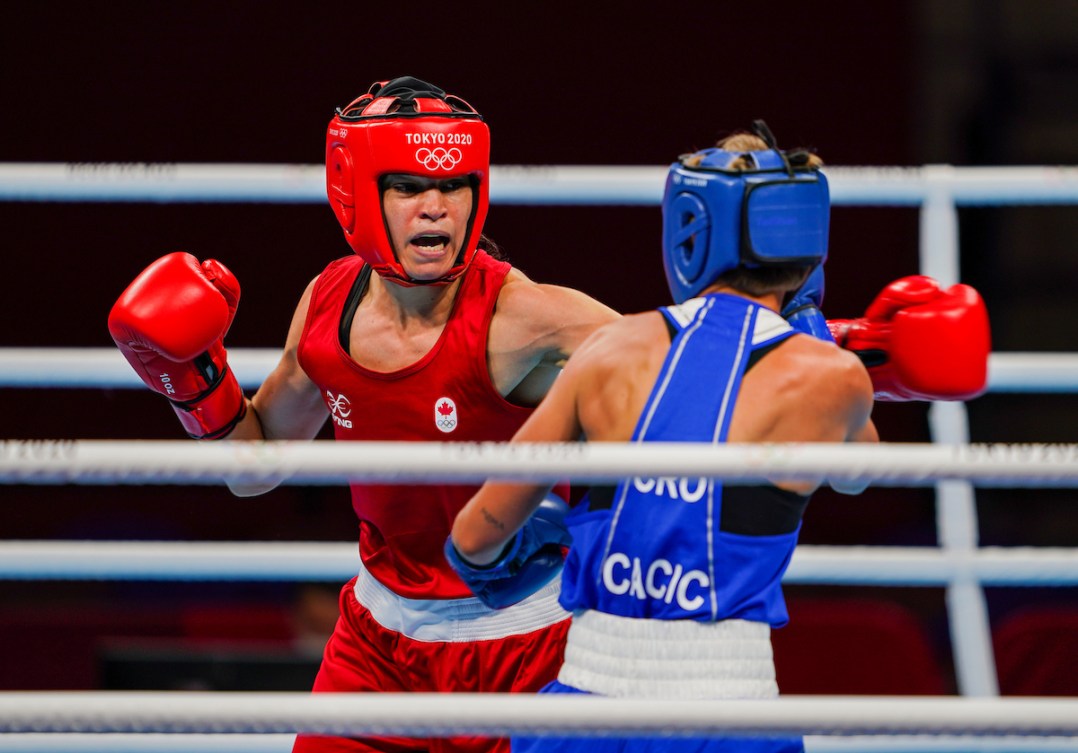 Caroline Veyre was in action in the Round of 16 of the women's 57kg featherweight division and earned a 5-0 victory over Nikolina Cacic of Croatia.
Table Tennis
The last Canadian standing is Mo Zhang, who defeated Petrissa Solja of Germany 4-3 (11-7, 11-5, 9-11, 11-6, 6-11, 8-11, 11-3) in the third round of women's singles.
Badminton
There was just one Canadian team in action as group play continued. Joshua Hurlburt-Yu and Josephine Wu lost 2-0 (21-12, 21-13) to a tandem from France in mixed doubles.
Sailing
Sitting in sixth place after the first two races, Sarah Douglas took to the water twice more on Day 3 in the Laser Radial. She finished fourth in the first race and 26th in the second, putting her in seventh place overall. Nikola Girke had three races in women's RS:X and is in 25th place overall in the fleet.
Rugby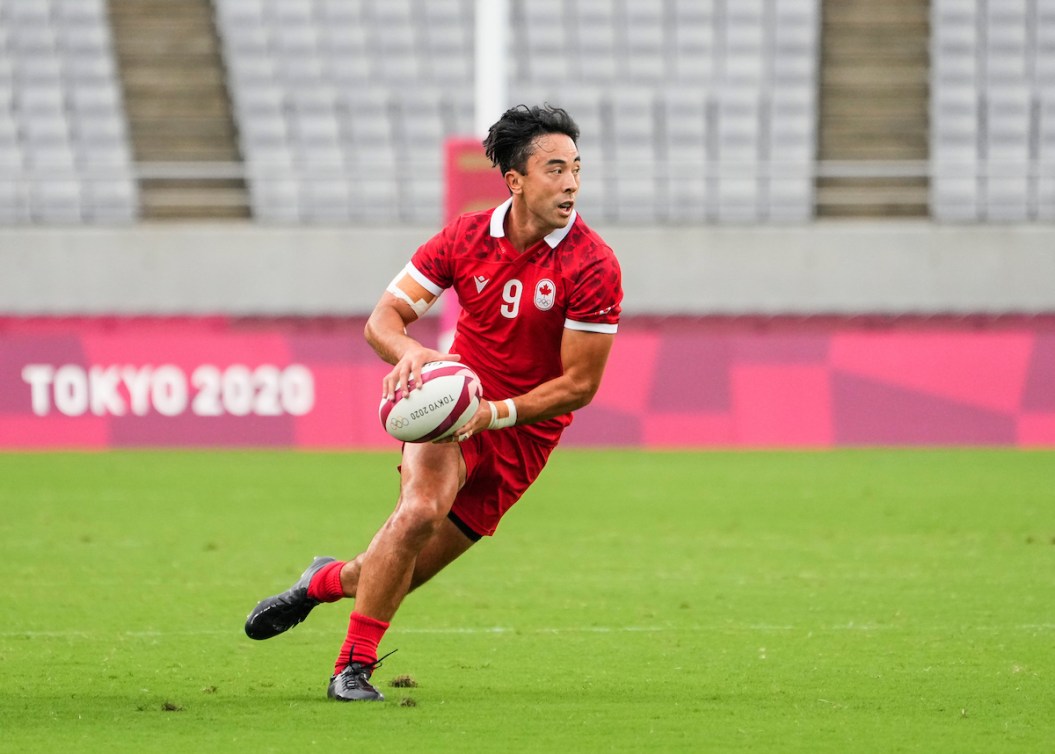 Led out into Tokyo Stadium by co-captains Nathan Hirayama and Harry Jones, the Canadian men's rugby team made their Olympic Games debut against Great Britain on Monday morning. After falling behind 7-0 in the closing seconds of the first half, it was not to be Canada's match, as they fell 24-0 to the reigning Olympic silver medallists from 2016.
In their second match of Day 3, Canada hit the pitch against the reigning Olympic champions, Fiji. Canadian flag bearer, Hirayama got Canada on the board, finishing off a series of strong passes to score Canada's first try of the Games before Justin Douglas flashed his speed on the outside for a try of his own to bring Canada within seven in the final minute. As the clock hit zero, it was not enough for Canada, as they lost 28-14.
Field Hockey
Floris van Son scored Canada's lone goal in a 3-1 loss to Great Britain. Goalkeeper Antoni Kindler made several key saves against a strong Team GB attack. The Canadians got within one in the fourth quarter but that would be as close as they would get. Canada, 0-2, takes on the Netherlands on Day 4.
Volleyball
Canada middle blocker Lucas van Berkel #12 spikes the ball as Italy middle blocker Simone Anzani #17 attempts to block during the menís preliminary round at Ariake Arena during the Tokyo 2020 Olympic Games on Saturday,July 24, 2021. Photo by Leah Hennel/COC

Canada's middle blocker Graham Vigrass #17 hits the ball against Italy during the menís preliminary round at Ariake Arena during the Tokyo 2020 Olympic Games on Saturday,July 24, 2021. Photo by Leah Hennel/COC
It was another tough result for Canada in men's indoor volleyball, as Japan won 3-1 (23-25, 25-23, 25-23, 25-20). Canada's record sits at 0-2 after losses to Italy and Japan, with three matches remaining in Pool A. Next up is Iran (Tuesday, 8 p.m. ET), with Canada's hopes of reaching the quarterfinals hanging in the balance.
Water Polo
Spain defeated Canada 14-10 in a back-and-forth match at the Tatsumi Water Polo Centre. Canada scored the first two goals of the game and stayed within one of Spain for much of the first three quarters. Claire Wright had a strong performance in net, facing 25 shots. Elyse Lemay-Lavoie scored three goals for Canada while Shae La Roche and Kyra Christmas each had two. Canada, 0-2, takes on South Africa on Wednesday.