Team Canada to have 57 competitors in athletics at Tokyo 2020
Team Canada's largest sports squad for Tokyo 2020 was unveiled on Saturday as 57 runners, walkers, throwers and jumpers were officially nominated to the Olympic team.
That group includes 33 women and 24 men across 29 of the 48 athletics events.
The roster was finalized following the closure of the qualification period on June 29. At that time, athletes either needed to have met the entry standard for their event or be high enough in the World Athletics World Rankings to be eligible for nomination to the Olympic team.
While some athletes had achieved the qualification criteria prior to the one-year postponement of Tokyo 2020 being announced last March, others went right to the wire, making it onto the team with their performance at the Olympic Trials presented by Bell, which were held June 25-27, or at a last-chance meet in Montreal on Tuesday.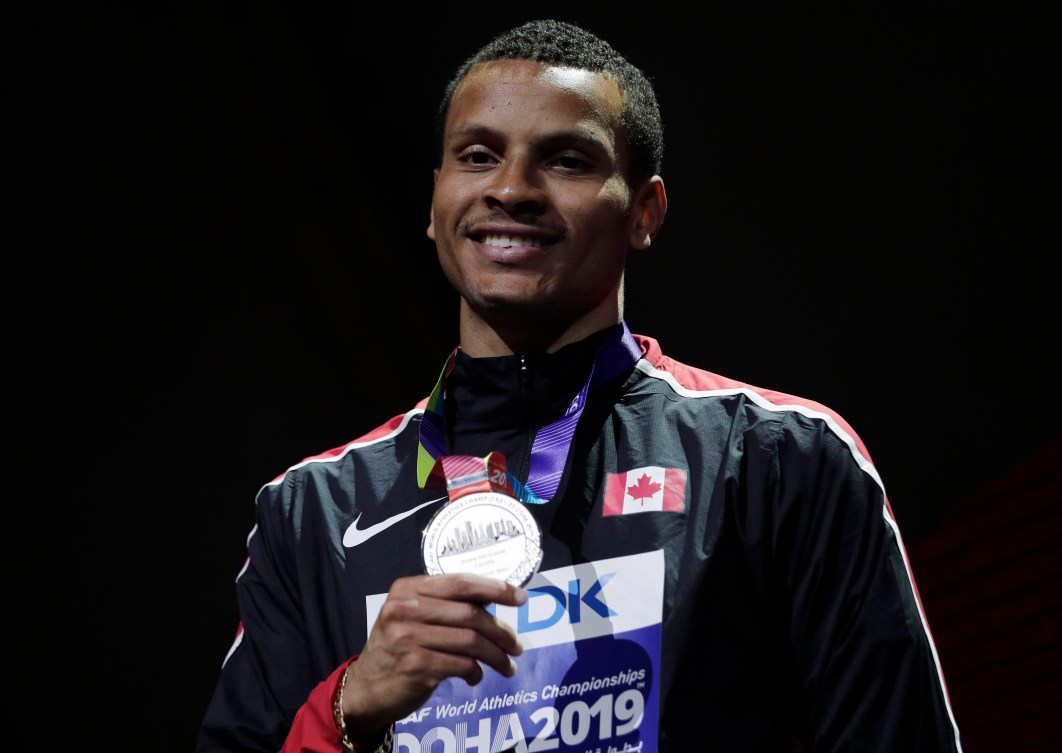 The team includes the four athletes who won Canada's five medals at the most recent World Athletics Championships.
Andre De Grasse was a double medallist in the sprints at the 2019 Worlds, repeating the 200m silver and 100m bronze he won in his Olympic debut at Rio 2016. In between, he'd struggled with injuries, particularly with his hamstring, but will head to Tokyo as one of the top contenders in the events long dominated at the Olympics by Jamaican star Usain Bolt. De Grasse also won bronze with the 4x100m relay in Rio and Canada has qualified for that event in Tokyo, with Aaron Brown, Brendon Rodney and Bolade Ajomale also returning from the medal-winning squad.
Damian Warner will get his shot at earning the title of World's Greatest Athlete, traditionally bestowed upon the Olympic decathlon champion. He won bronze in 2019 for his third career world championship medal, adding to the bronze he won at Rio 2016. In May, he came within five points of breaking through the 9000-point mark that only three decathletes in history have surpassed as he won a record sixth Hypo-Meeting title. Warner spent much of the pandemic training in an old hockey arena in London, Ontario that he and his coaches converted to allow him to work on all 10 events of the decathlon.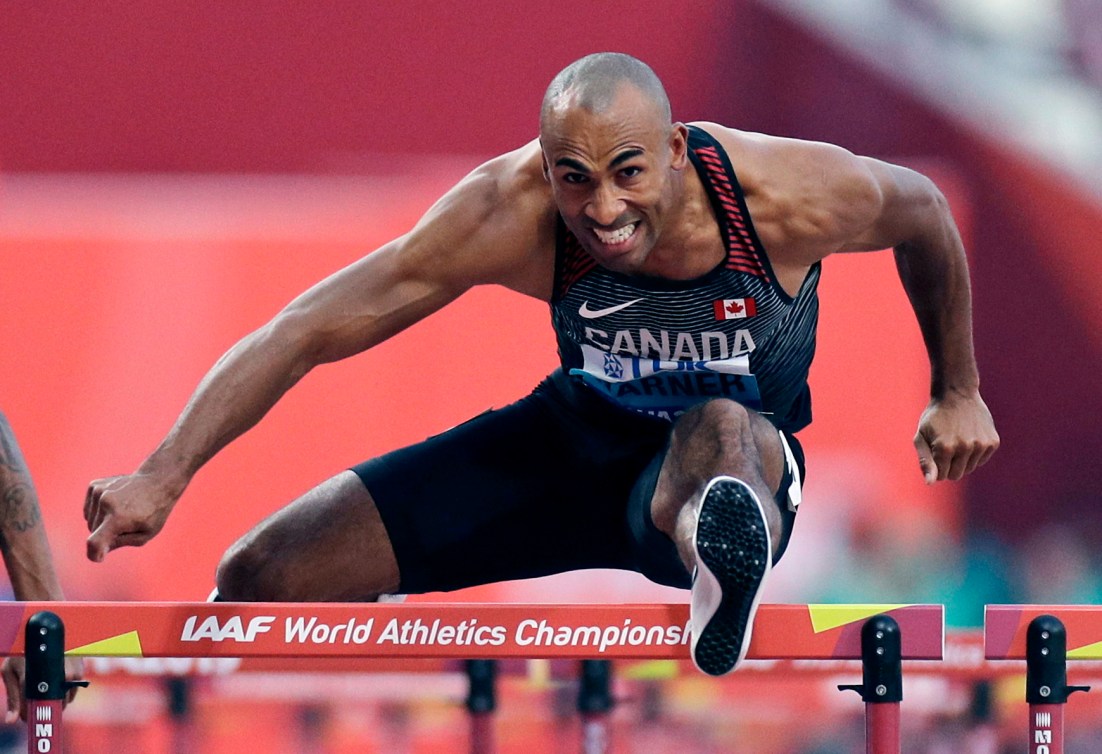 "I'm really excited to go to Tokyo. It's crazy for me to think that I went to the Olympics in 2012, 2016 and now I'm getting ready for my third Olympic Games," said Warner, who heads to Tokyo as the top-ranked athlete in the men's decathlon. "I couldn't be more honoured to represent Team Canada and to go over to Tokyo with this talented group. I will have Pierce (LePage) with me in the decathlon, which will be awesome to have a teammate in the same competition. I'm just really looking forward to going over there and competing."
Mohammed Ahmed had a breakout moment at the 2019 Worlds when he won 5000m bronze for Canada's first world championship medal in a long distance track event. That followed his fourth-place finish in the event at Rio 2016. He currently owns the third fastest 5000m time in the world this year.
Evan Dunfee also made history in the 50km race walk when he won bronze in Doha, following up on his own fourth-place finish at Rio 2016. This summer could mark the last appearance of the longest athletics event at the Olympic Games. It has already been dropped from the program for Paris 2024, a decision intended to make athletics more gender equal.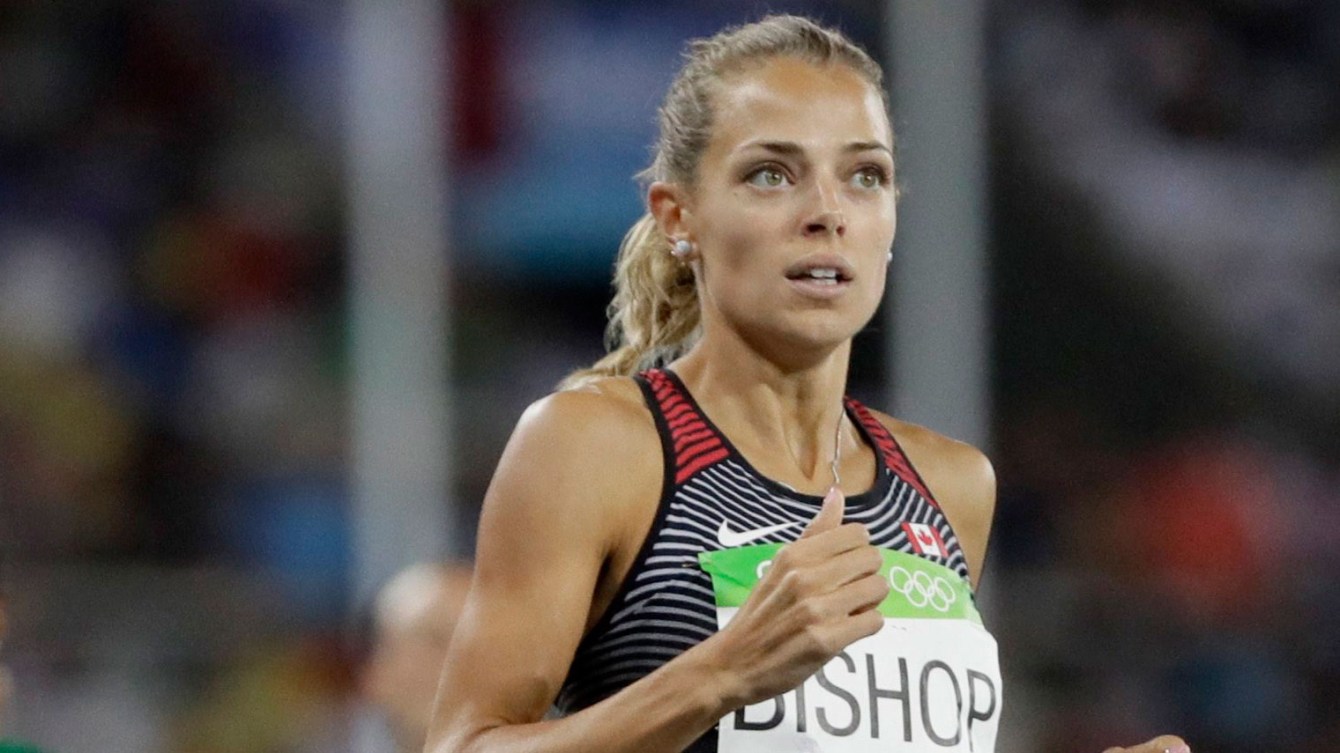 Among the headliners on the women's side is Melissa Bishop-Nriagu who is aiming to get on the Olympic podium after finishing fourth in the 800m at Rio 2016. A world silver medallist in 2015, Bishop-Nriagu achieved the entry standard for the 800m in early May, her first time running that fast since becoming a mom in 2018.
"I'm really excited for these Games. I think the extra year really did us some good," said Bishop-Nriagu. "It's going to be my third Olympic Games; I'm really looking forward to getting to Japan and being in the Olympic spirit. I feel like it's been so long since we've been able to experience that, so I'm really looking forward to it."
The women's team also includes multiple Canadian record holders, including Regan Yee, who broke the national mark in the 3000m steeplechase on the last day of the qualification period. Gabriela DeBues-Stafford placed sixth in the 1500m at the 2019 Worlds as she ran a national record time. Sage Watson set the national record in the 400m hurdles while finishing fourth-fastest in the semifinals in Doha.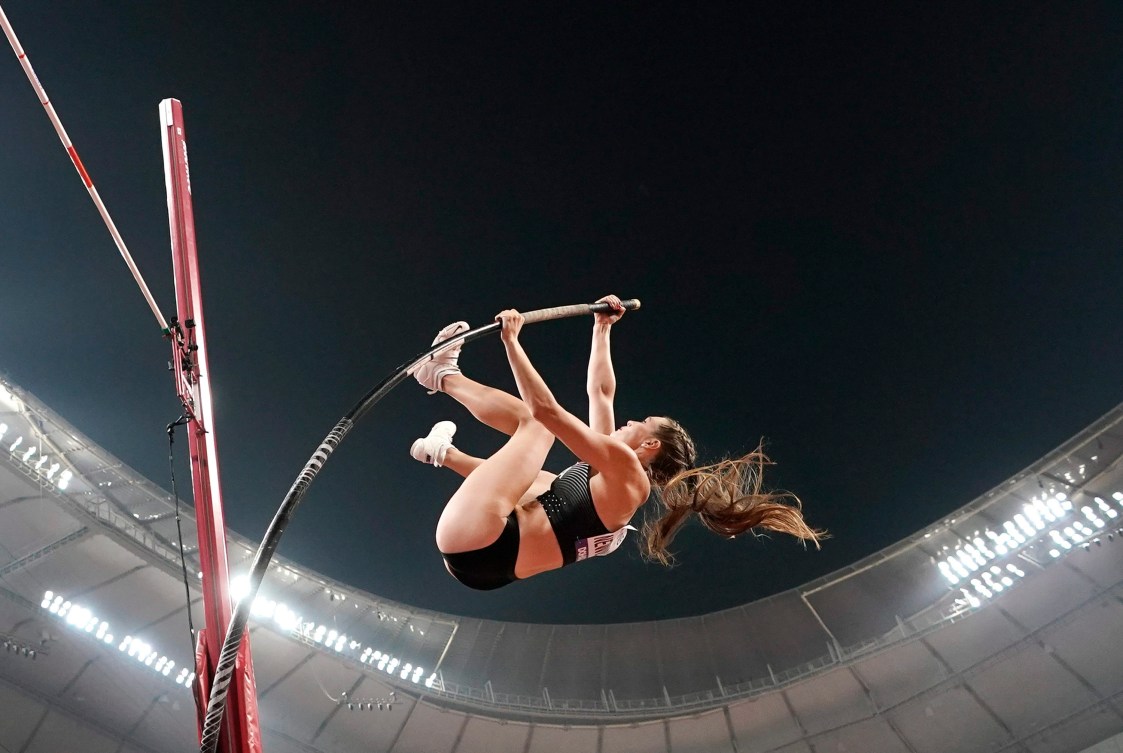 In the field events, Alysha Newman was just two centimetres shy of her own Canadian pole vault record in finishing fifth at the 2019 Worlds. Brittany Crew was a top-eight finisher in the shot put at the worlds just a month after throwing a national record. Those were among Canada's 15 top-eight finishes in Doha, the most ever for the country at one world championship.
Canada's marathon contingent of three women and three men includes national record holders Malindi Elmore and Cameron Levins. Elmore is headed to her second Olympic Games, 17 years after her previous appearance at Athens 2004 where she was middle distance runner. She smashed the marathon mark in January 2020, more than seven years after she had retired from elite racing. Levins competed in the long distance track events at London 2012 before breaking Canada's 43-year-old record in his first ever marathon in October 2018.
More than half of the team headed to Tokyo has previous Olympic experience, led by high jumper Michael Mason who has been nominated for his fourth Olympic Games. There are 26 first-time Olympic team members.
All track and field events will take place at the Olympic Stadium in Tokyo, starting July 30 and ending August 7. The marathon and race walk events will be held August 5-8 at the Sapporo Odori Park on the northern Japanese island of Hokkaido. It was decided in late 2019 to move those endurance road races out of Tokyo as a precaution against the high heat expected in the capital in the middle of the summer.
Canada has won 60 Olympic medals in athletics, more than in any other sport. Six of those came at Rio 2016, the country's best total at one Games since the nine won at Los Angeles 1932.
Team Canada Athletics Competitors at Tokyo 2020:
Mohammed Ahmed (St. Catharines, ON) – Men's 5000m, 10,000m
Bolade Ajomale (Richmond Hill, ON) – Men's 4x100m Relay
Marco Arop (Edmonton, AB) – Men's 800m
Mathieu Bilodeau (Quebec City, QC) – Men's 50km Race Walk
Khamica Bingham (Brampton, ON) – Women's 100m
Melissa Bishop-Nriagu (Eganville, ON) – Women's 800m
Jerome Blake (Kelowna, B.C.) – Men's 4x100m Relay
Bismark Boateng (Brampton, ON) – Men's 100m, 4x100m Relay
Aaron Brown (Toronto, ON) – Men's 200m, 4x100m Relay
Alicia Brown (Ottawa, ON) – Women's 4x400m Relay
Lucas Bruchet (Vancouver, B.C.) – Men's 5000m
Alycia Butterworth (Parksville, B.C.) – Women's 3000m Steeplechase
Lindsay Butterworth (North Vancouver, B.C.) – Women's 800m
Kyra Constantine (Brampton, ON) – Women's 400m, 4x400m Relay
Brittany Crew (Toronto, ON) – Women's Shot Put
Gabriela DeBues-Stafford (Toronto, ON) – Women's 1500m
Andre DeGrasse (Markham, ON) – Men's 100m, 200m, 4x100m Relay
Evan Dunfee (Richmond, B.C.) – Men's 50km Race Walk
Georgia Ellenwood (Langley, B.C.) – Women's Heptathlon
Malindi Elmore (Kelowna, B.C.) – Women's Marathon
Crystal Emmanuel (Toronto, ON) – Women's 100m, 200m
Lauren Gale (Ottawa, ON) – Women's 4x400m Relay
John Gay (Vancouver, B.C.) – Men's 3000m Steeplechase
Elizabeth Gleadle (Vancouver, B.C.) – Women's Javelin
Natalia Hawthorn (North Vancouver, B.C.) – Women's 1500m
Trevor Hofbauer (Burnaby, B.C.) – Men's Marathon
Matthew Hughes (Toronto, ON) – Men's 3000m Steeplechase
Madeleine Kelly (Pembroke, ON) – Women's 800m
Justyn Knight (Toronto, ON) – Men's 5000m
Geneviève Lalonde (Moncton, N.B) – Women's 3000m Steeplechase
Pierce LePage (Whitby, ON) – Men's Decathlon
Cameron Levins (Black Creek, B.C.) – Men's Marathon
Django Lovett (Toronto, ON) – Men's High Jump
Michael Mason (Nanoose Bay, B.C.) – Men's High Jump
Brandon McBride (Windsor, ON) – Men's 800m
Natassha McDonald (Brampton, ON) – Women's 400m, 4x400m Relay
Sarah Mitton (Brooklyn, N.S.) – Women's Shot Put
Noelle Montcalm (Windsor, ON) – Women's 400m Hurdles, 4x400m Relay
Tim Nedow (Brockville, ON) – Men's Shot Put
Christabel Nettey (Surrey, B.C.) – Women's Long Jump
Anicka Newell (Saskatoon, SK.) – Women's Pole Vault
Alysha Newman (Delaware, ON) – Women's Pole Vault
Dayna Pidhoresky (Tecumseh, ON) – Women's Marathon
Ben Preisner (Milton, ON) – Men's Marathon
Madeline Price (Toronto, ON) – Women's 4x400m Relay
Brendon Rodney (Etobicoke, ON) – Men's 200m, 4x100m Relay
Camryn Rogers (Richmond, B.C.) – Women's Hammer Throw
Andrea Seccafien (Guelph, ON) – Women's 5000m, 10,000m
Gavin Smellie (Brampton, ON) – Men's 100m, 4x100m Relay
Julie-Anne Staehli (Lucknow, ON) – Women's 5000m
Lucia Stafford (Toronto, ON) – Women's 1500m
Kate Van Buskirk (Toronto, ON) – Women's 5000m
Damian Warner (London, ON) – Men's Decathlon
Sage Watson (Medicine Hat, AB) – Women's 400m Hurdles, 4x400m Relay
Jillian Weir (Kingston, ON) – Women's Hammer Throw
Natasha Wodak (North Vancouver, B.C.) – Women's Marathon
Regan Yee (South Hazelton, B.C.) – 3000m Steeplechase